Kingman neighbors in Walleck Ranch have tumbleweed issues
Originally Published: May 22, 2017 5:55 a.m.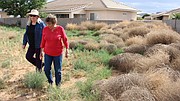 "I'll keep rolling along
Deep in my heart is a song
Here on the range I belong
Drifting along with the tumbling tumbleweeds"
KINGMAN – Suzanne Reed hails from Southern California, but that's about her only connection with Roy Rogers.
She's from a different side of the range than the leader of Sons of the Pioneers who sang so nostalgically about the thorny bushes that grow to enormous size before drying up and blowing across the desert, making great scenes for desolate towns in Western movies.
As far as having them in her backyard, well, if ever there was a NIMBY attitude, it's strong and active for Reed and a few of her neighbors in the Legacy at Walleck Ranch subdivision by Cantrell Development.
They've complained to Kingman Police Department's Neighborhood Services about tumbleweeds stacked up against 6-foot block walls in back of their homes, creating what they perceive as a possible fire hazard and certainly a nuisance and eyesore.
Reed said she called Neighborhood Services five or six times and was told the property owner was given a 30-day notice to remove the weeds, but there's been absolutely nothing done as far as enforcement.
"Every time there's a windstorm, tumbleweeds blow onto our property," Reed said as she surveyed an accumulation of about 50 bushes piled up against a wall. "One concern is fire. The other is flooding."
A drainage channel off Meadowbrook Lane had a pile of tumbleweeds over 5 feet tall blocking the culvert.
Reed said one neighbor cleared his yard with two full loads up to the cab of his pickup truck. Cantrell had the empty lots cleared last year to put in road and curb improvements, but instead of removing the tumbleweeds, the developer had them scooped up against the walls, she said.
Dave Reif, department manager of Neighborhood Services, said a case was filed against a local realty company overseeing the development in January, and the owner said he would take care of it, but never did.
Another complaint was submitted and the case was reopened, with a 30-day notice that ends June 4. From there, if the notice is not extended, the case goes to the City Attorney's office for review, Reif said.
Then it goes into court, which could take 30, 60 and up to 120 days to process, depending how quickly it gets into the court system.
"It's not a quick fix," Reif said. "It's in the process, but until they extend the 30 days, it's hands off."
A call to Cantrell Development for response was not returned by deadline.
Weeds are No. 3 on Neighborhood Services' "Terrible Ten" code violations.
"No owner or occupant of land, whether improved or unimproved, shall allow weeds to grow in excess of 12 inches high or so dry as to constitute a fire hazard," the code states.
Complaints about tumbleweeds are "sporadic," depending on the time of year, Reif said. If they're up against a brick or block wall, it's probably not a fire hazard, he added. They would have to be abutting a structure or wood fence to be deemed a fire hazard.
Margie Witt, who has lived at Legacy at Walleck Ranch for four years, said tumbleweeds are an ongoing problem.
"This happens every year," she said. "These are new ones. They're always coming over the wall.
"As soon as they fly over the wall, all the seeds go in my yard."
More like this story
SUBMIT FEEDBACK
Click Below to: