'13 Reasons Why': Is teen suicide too sensitive to be considered entertainment?
Neflix series is the focus of debate

By
Hayden Merrill
|
haydenmer
Originally Published: May 26, 2017 6 a.m.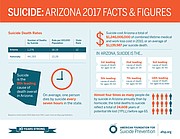 KINGMAN – Netflix's newest original series has been causing quite a debate. The series, "13 Reasons Why," tackles such difficult subjects as suicide, rape and cyber bullying – subjects that affect high school students throughout the world.
Naturally, because the show is targeted towards the young adult age group, and the show revolves around the lives' of high schoolers, many have begun to question if the series deals with the sensitive subject of suicide in a decent manner. Even more than this, many question if the show sends the right message about suicide to its seemingly impressionable audience.
"13 Reasons Why" tells the story of a young high schooler, Hannah Baker, and the circumstances that led her to make the decision to take her own life. Baker records a set of tapes disclosing how each of the 13 people who receive the tapes played a part in this decision. The tapes include stories of bullying, rape and people not reaching out to help the struggling Baker.
"Welcome to your tape," says Hannah as she retells each story of how the listeners became a part of her suicide.
The final episode of season one of "13 Reasons Why" depicts a defeated Baker as she gruesomely ends her life. The episode depicts the suicide in great detail. The graphic manner in which it is shown was intended to show the blatant reality of suicide, according to one of the show's writers.
"It seemed to me the perfect opportunity to show what an actual suicide really looks like—to dispel the myth of the quiet drifting off, and to make viewers face the reality of what happens," said series writer Nic Sheff in an interview with Vanity Fair last month.
Sheff himself has a personal history of self-harm, and in writing the series finale, said he recalled his own attempt at suicide that was only halted by his remembrance of the horrific way in which a friend's attempted suicide played out.
"It overwhelmingly seems to me that the most irresponsible thing we could've done would have been not to show the death at all," Sheff said.
While Sheff and others continue to hold the belief that detailing the suicide in a graphic manner will help show the reality of the situation, many argue that the show has become a form of "suicide contagion."
According to the U.S. Department of Health and Human Services, suicide contagion is the tendency for increased suicide behaviors when exposed to suicide in media or in real life. The reality of suicide contagion has led many to question whether or not "13 Reasons Why" should be viewed by teenagers. Schools across the country have sent letters home warning parents of the show's questionable material, and suggesting parents view the show themselves in order to determine how it may affect their children.
"Ask your child if they have heard or seen the series '13 Reasons Why.' While we don't recommend that they be encouraged to view the series, do tell them you want to watch it, with them or to catch up, and discuss their thoughts," read a statement released by the National Association of School Psychologists.
The NASP also offers parents suggestions on who to contact if they are worried their child is exhibiting suicidal behavior. This information can be found at nasponline.org.
The impact of "13 Reasons Why" has also been seen at Kingman high schools. Assistant Principal of Kingman Academy High School Michael Suchowierski said although no students have come forward claiming the series has had a direct impact on their mental wellbeing, he has definitely heard students discuss the show throughout the school.

"It's hard when it comes to talking about these polarizing issues, especially when shows like '13 Reasons Why' comes out," Suchowierski said.
As an educator, Suchowierski has had quite a few experiences dealing with the mental health of students. He said that the goal of Kingman Academy is to make students aware that they are never alone in these difficult situations.
"We want our students to feel like they have a safe environment to talk about struggles in their daily life," Suchowierski said. "We help them analyze their problems and try to get to them the help they need whether it's bully prevention, social media issues, or getting them outside resources' help."
While he has not personally viewed "13 Reasons Why," Suchowierski said he does know of the subject matter and how serious it is.
"It's bringing up the problem, but not the solution," Suchowierski said.
However, the show's creators have made one very valuable resource available to its viewers at the end of the credits of each episode. By visiting a website operated by the show, 13reasonswhy.info, readers can find a series of websites, organizations and phone numbers that offer support in crisis situations. This list includes the phone number for the National Suicide Prevention Hotline; a resource available to anyone struggling with suicide, 1-800-273-8255.
More like this story
SUBMIT FEEDBACK
Click Below to:
This Week's Circulars
To view money-saving ads
For as little as $3.49*