Bringing Brightness to Route 66: Muralist couple puts cheer into Kingman
Originally Published: May 30, 2017 6 a.m.
Dan, Vickie and their dog Cookie are living gratuitously in a room at the Ramada Inn in exchange for the beautiful mural artwork they created for the hotel, expressions of American icons splashed across a wide stucco wall facing Route 66.
They don't often answer their phone and are reluctant to give out their last names, but they're in huge demand for their work.
Everyone is raving about the murals popping up on local businesses with a strong emphasis on Kingman's Route 66 heritage.
"She's the boss," Vickie said, pointing to her Chihuahua leashed to the couple's battered Dodge Ram work truck, a rug and toy and bowl of water nearby. "She gets more gifts than we do."
Strands of long hair flow from under Dan's floppy camouflage fishing hat. He sports a few days' beard growth and a full mustache.
A sign painter by trade, Dan's a middle-aged man from Arizona, but has bounced around the Southwest, leaving his colorful mark in places such as the Last Stop on U.S. Highway 93, Dolan Springs and Needles.
"A lot of times, people have their own idea of what they want, and a lot of times, they'll do whatever you think," Dan said about artistic concepts behind his murals. "Did you see Marilyn Monroe at El Travatore (motel)? We're not done over there."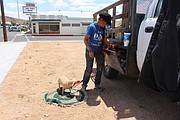 His work can also be seen on Rutherford's Route 66 Family Diner, Bangkok Thai restaurant and, most recently, Rickety Cricket Brewing in downtown Kingman.
Dying art
"It's an unusual profession," Dan said. "Everybody's on the computer anymore. It's kind of a dying art, people painting stuff. You look at billboard photography, but when it's hand-painted, it grabs your attention a little more."
People are constantly stopping and chatting with the couple when they're spotted in action. Sometimes they want to tell them they're deaf and dumb so they can continue with their work.
"I was out here (on Beale Street) yesterday and I probably had 35 people and all they want to do is talk," Dan said.
Vickie said people are crazy about the Route 66 thing and what it was all about during its heyday.
"The wholesomeness. There's no anger on Route 66. There's anger all over the world today," she said.
They've got so much work they're almost "tearing our hair out," Vickie said. People are constantly calling them and wanting stuff done.
But they don't answer. A lot of times it's by chance that they're located, maybe by someone else who knows how to contact them.
"We found Dan and Vickie, and keep them working daily," said Scott Dunton, owner of Dunton Motors and Mr. D'z Diner and president of Route 66 Association of Kingman. "They talked about leaving twice. I won't let them. I heard Rutherford's and the Thai restaurant doubled business after they painted their murals."
Dan said one business owner was talking to a banker about building equity in his property, and the banker suggested putting up more murals.
Special couple
Sultan Abbas, general manager of Ramada Inn of Kingman, said the muralists are a "very special couple," and have become close friends with people who work at the Ramada and Canyon 66 Restaurant.
"What's surprising about Dan and Vickie is that they don't really work just to make money. They work because they love what they are doing," Abbas said.
He's seen Dan about to finish a mural, stare at it for a while, smoke a few cigarettes, and then paint it all over in white.
"I ask him, 'What's wrong?' He says it's not going to be real. That's the way he sees his murals," Abbas said.
The Ramada manager said the murals add "charm" to the hotel. He's seen hundreds of guests and tourists stop by, get out of their cars and start snapping pictures, sometimes mimicking the pose of actors in the murals.
"Some of the big murals, when you take a picture next to it, you literally feel you are inside of it, part of it," Abbas said.
The couple has been invited to stay at the Ramada till the day they die.
"Otherwise, we'd be on the streets," Vickie said. "We're what you call starving artists, but we're not starving."
More like this story
SUBMIT FEEDBACK
Click Below to: