Originally Published: November 3, 2017 5:59 a.m.
KINGMAN – For the first time in program history, the Lee Williams girls cross country team is headed to the Division III State Championship, which is scheduled for 8:55 a.m. Saturday at the Cave Creek Golf Course in Phoenix.
"The girls were one spot out last season and that was hard," said Lee Williams head coach Joan Abraham. "The girls really wanted this and have pushed themselves and each other to do better at each meet."
While this will be the first time for the Lady Vols, the Volunteers know how difficult state competition is after making it last year. That knowledge will be fundamental to the Lady Vols and newcomers on the boys team.
"They can explain the excitement that is in the air at state and how crazy it can get," Abraham said. "They can also explain the course, when to speed up, when to just let themselves relax, and even how to approach the starting line."
One area the Vols and Lady Vols can't prepare for, however, is the teams that they'll be facing. Lee Williams knows where it stands though, as Atheltic.net has the Lady Volunteers ranked No. 13 and the Volunteers at No. 21.
"State is a totally different beast in terms of a cross country meet – anything can happen," Abraham said. "That being said, both teams are well prepared. The teams who qualified for state have not all been officially announced, so we don't know who we will be competing against."
Abraham still has high hopes for Lee Williams, as she would like to see the Lady Vols place in the top 10.
"They have their work cut out for them, but if they all run hard they could do it," she said.
Abraham is aiming for the Vols to finish in the top half, which is around 24th.
"Considering that there are 52 teams in our division, that would be quite an accomplishment," she said.
As far as the course is concerned, Abraham believes its challenging, but not too challenging.
"The cooler temperatures that are forecast for Saturday and the fact that we are running early in the morning bode well for fast times," she said. "We'll be there early to walk the course and discuss strategy. I'm excited for this meet and I'm incredibly proud to finally be taking two teams to state. I know what an accomplishment that is."
Division IV State Championship
Kingman Academy's Sam Skankey will be the lone representative for the Tigers at the Division IV State Championship after he finished seventh last Friday at the AIA Sectionals Hidden Cove in Holbrook.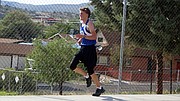 "I was very pleased," Skankey said of his finish at sectionals. "I feel I could have maybe gone at it a bit harder at the beginning, but halfway through the race I was very happy with how I progressed."
Skankey will be making his second appearance at state after a technical issue forced him to miss it as a junior and injuries were the culprit during his sophomore year.
"This is the last opportunity," Skankey said. "So I'm definitely putting everything that I have and everything that I've worked for on the table. I'd like to make it my best race."
Athletic.net ranks Skankey as the No. 2 runner in Division IV behind North Phoenix Prep's Jordan Black. Skankey has tallied seven first-place finishes this season, highlighted by his personal-best time of 15:54.0 at the River Valley Night Run on Oct. 12.
Phoenix's Cave Creek Golf Course will be the site of the Division IV State Championship on Saturday.
"It's a nice course," Skankey said. "There are some uphills and downhills that I'm betting on making moves on. It's just a golf course and I'm allergic to grass. There's a downside, at least after the race. I don't stop sneezing."
However, that doesn't mean it will affect him during the race as Skankey said his adrenaline will keep him going until the end. As far as preparation is concerned, Skankey and coach Robert Skankey have focused on doing mile splits and other various exercises to keep his endurance up.
"This year's goal was to get him to state so he could show everyone his progress," coach Skankey said.
"He has surpassed our expectations and through his hard work he is ready to make his mark against the states' best runners."
More like this story
SUBMIT FEEDBACK
Click Below to:
This Week's Circulars
To view money-saving ads
For as little as $3.49*