Saving Arnold Plaza: Work has started on downtown building for a veterans' center
Originally Published: November 5, 2017 6 a.m.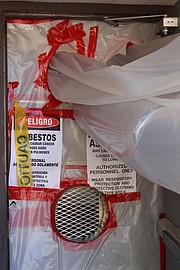 The rear doors of Arnold Plaza are taped with sheets of plastic and sealed off except for flimsy ventilation ducts stretching into the alley. They're posted with red warning signs to wear respiratory protection and protective clothing.
The 25,000-square-foot building is undergoing asbestos and lead-based paint removal, the first step toward rehabilitating the former county office into a transitional home and resource center for down-and-out veterans.
Workers from Tempe-based Spray Systems Environmental began tearing out ceilings and walls on Oct. 23, with actual asbestos abatement expected to be finished by the end of this week, said John Mieding, technical liaison for Mohave County, which owns the building.
The building at 315 E. Oak St. will then go through an extensive certification process from Arizona Department of Environmental Quality to make sure all of the asbestos and lead paint has been properly removed, Mieding said. That's probably another two weeks.
The work is funded by a $120,827 Brownfield grant awarded by EPA and administered by ADEQ.
"They're working four days a week, moving right along," Mieding said of the asbestos removal crew. "The job is going remarkably smooth. We've had no issues with security, the envelope and contaminants."
Spray Systems Environmental hires "top-shelf" professionals with experience in determining the safest and most thorough method for removing asbestos once they've assessed the situation, Mieding said.
Popcorn spray is being scraped off the ceiling with a mechanical blade, and water is sprayed for dust mitigation during removal of pipe and duct insulation, the county official mentioned.
After asbestos and lead-paint removal, Arnold Plaza will be purchased by Jerry Ambrose Veterans Council for $58,500, then rehabilitated into a veterans' resource center.
It was estimated at $500,000 to tear down the building, which has sat vacant for more than 10 years.
"We're not tearing the building down," said Pat Farrell, president of JAVC. "We're repurposing it and making it come alive for what we want. We think it's a great location and we're looking forward to working with the city and merchants to enhance what's going on down there."
Farrell plans to turn Arnold Plaza into a resource center to help homeless Mohave County veterans get back on their feet, file claims for VA benefits and look for employment. It won't be a "flophouse," he said.
"We want to be good neighbors for the city and downtown. We're going to manage the residents and make sure they're not out drinking and sitting out on the street," Farrell said.
"Our purpose is to help them with any problems. The ones that are in there will want to be there. We're not going to force anyone to be there."
Arnold Plaza was built in 1963 and had a title company, doctor's office, construction firm and other businesses in the building.
The county purchased the property about 25 years ago and used it for the Treasurer and Assessor offices. It was last remodeled in 1992, and has not been used in over a decade.
The property was appraised in 2007 and 2013, with the last appraisal coming in at $65,000.The property was put out to bid, but the asbestos issue killed any interest.
After two failed attempts to sell the property at auction, the Board of Supervisors approved a contract last year to sell the building to JAVC for $58,500 and get it off the county books.
Before the building can be sold to JVAC, the county agreed to work with the organization to remove the asbestos, a major stumbling block for renovation of many old buildings.
Mohave is one of 70 counties to receive Brownfield funding since the program's inception in 2003.
The grants, from the EPA, assist in environmental assessment, cleanup and restoration projects for schools, hospitals, government and nonprofits such as the Veterans Council.
Brownfields are abandoned or underused properties where rehabilitation is complicated by environmental contamination. That could include hazardous materials and substances, petroleum or mine-scarred land.
Farrell plans to use the Brownfield grant in conjunction with the EPA and ADEQ to cover costs of removing the asbestos.
"This allows us to make the purchase," he said. "The next hurdle is purchasing the building from the county. We have an architecture firm working on the plan. It's a process, nothing quick.
"I wanted to make sure we don't take one step forward and three steps back, and that's easy to do with this type of project. I don't want to have to go back and redo something. That's way expensive."
Farrell said he looks forward to working with the city on what can and cannot be done with the building, and to make sure the building is operating within code.
After the asbestos removal, Farrell will need to hire an architectural firm to draw up the plans, install a fire suppression system and repair the roof. He's hoping for an April opening, but July 4 would work.
"It'll be an interesting project," Farrell said. "Getting the funding for that type of problem (asbestos) is incredible. Everything's moving."
More like this story
SUBMIT FEEDBACK
Click Below to: