Trading a sleigh for a Hot Rod
Claus Cause Car Show one of many events Santa and Mrs. Claus use to spread magic and love
Joann Destigter, Special to the Miner
Originally Published: November 6, 2017 6 a.m.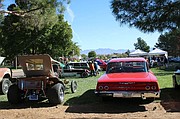 The AZ Claus Cause Car Show was held Oct. 21 at Mohave Community College's Neal Campus.
The group included Santa, Mrs. Claus and an amazing group of volunteers who are committed to spread the "The Magic of Giving" through our Mohave County community.
If there is anything in this world that we know is needed, it's for children to believe in the power of magic and love, said Mrs. Claus.
Santa and Mrs. Claus haven't always been focused solely on Mohave County. Their love and outreach has spread all over Arizona, Clark County and even Arkansas. All while raising money for food drives and many other worthy causes to help our communities.
You can catch Santa at the KRMC Holiday Open House from 4:30-7 p.m. Dec. 6. The goal is to make sure every child who comes to see Santa this year goes home with a present.
Bring a canned food item to the MCC Shines official lighting ceremony at 6 p.m. Dec. 7 for donation to the Kingman Area Food Bank.
Next year, there will be car shows in May, August and October. Each event raises money for the AZ Claus Cause. A list of all the AZ Clause Cause upcoming events is on their website at www.azclauscause.com.
The AZ Claus Cause longterm goal is to bring joy, education and employment, as well as increased tourism, to the Kingman area. 
Santa and Mrs. Claus have been visiting with children for more than six years. Up until now, they have been giving from their heart, their own pocketbook and small donations, while always believing that the magic of giving will bring a better future for the children in our community.
Many on the Kingman Neal campus may not realize that the pair behind AZ Claus Cause are Steve and Mary from the Bighorn Cafe. They are amazing people who go above and beyond to help the children in our community. I am always greeted with a smile and great service each time I walk into the cafe.
Trophy winners from the AZ Claus Cause Car Show
Truck: Barbara Combs, 1955 Chevy pickup
Hot rod: Bernie Wright, 1932 Ford 5 window coupe
Factory stock pre-2000: Doug Bunger, 1968 Chevrolet Camaro convertible
Modified: Russell Morehouse, 1967 Chevrolet Camaro convertible
Four-door wagon: Hank Ales, 1958 Chevrolet 4-door Belair
Under construction: Gary Marks, 1940 Hudson Coupe
Rat rod: Mark and Shawna Durst, 1929 Chevy sedan
Most unusual: Jesse Williamson, 1929 4-wheel drive Model A
Modern classic post-2000: Don Racine, 2017 Ford Mustang
Motorcycle modified: Bruce Hanson, home-built 2013 trike
Factory stock: Paul Silveira, 1947 Indian Chief motorcycle
Best paint: Chet Smith, 1941 Chevy Deluxe coupe
–Joann Destigter is a student reporter at Mohave Community College.
More like this story
SUBMIT FEEDBACK
Click Below to: