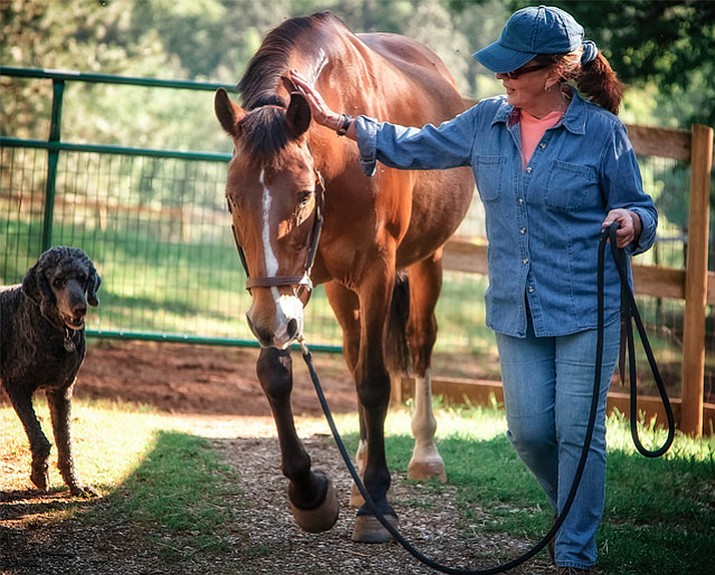 Originally Published: November 8, 2017 6 a.m.
How to adopt a wild horse or burro from the BLM
Adoption requirements: Go to www.blm.gov/adoptahorse/ to make sure you meet standard requirements for adopting a wild horse or burro. There's a flyer that outlines basic requirements on the adoption application, including specific facility parameters to ensure safety and health of the animals.
Make plans to visit an off-range corral: It is recommended that you contact your preferred adoption center and visit the facility's website, as each adoption center may have additional requirements.
Application: Complete an adoption application and mail it to your local BLM office (2755 Mission Blvd., Kingman, AZ, 86401), or bring it with you to the adoption center. Make sure you review the application carefully.
Appointment: Arrive at the adoption facility for your appointment or visit the adoption event during stated hours for viewing animals.
Pickup: Arrange for payment and pick up your newly adopted wild horse or burro directly from the facility or adoption event. The adopter is generally responsible for all transportation costs for the animal.
Thousands of wild burros and mustangs are roaming the mountains and deserts of northwest Arizona, and rounding them up for adoption and fertilization has become a focal point for governmental agencies, ranchers and environmentalists.
Alan Day, who started the first government-sponsored wild horse sanctuary on his South Dakota ranch in 1989, will talk about the complexities of managing wild horse populations at 6 p.m. Thursday at Mohave Community College, 1971 E. Jagerson Ave. The presentation will be held in Room 240.
At the time Day started his sanctuary, the government housed about 2,000 horses in feedlots. Day lobbied the United States Congress to grant him approval to bring 1,500 of them to Mustang Meadows Ranch, where he cared for them for years.
Day is a third-generation cowboy who grew up on the 200,000-acre Lazy B cattle ranch straddling the high deserts of southern Arizona and New Mexico. After graduating from University of Arizona, he returned to manage the ranch for 40 years and received awards for his dedication to land stewardship.
Along with his sister, retired Supreme Court Justice Sandra Day O'Connor, he wrote the bestseller memoir, "Lazy B," and he also wrote "The Horse Lover" and "Cowboy Up."
He'll share his experiences with wild horses and provide insight into the present controversy surrounding these icons of the West.
Growing herds
Today, the Bureau of Land Management holds more than 60,000 wild mustangs in feedlots, and the number is growing.
Why are so many in captivity? The Humane Society of the United States and four other animal welfare groups delivered a proposal to Interior Secretary Ryan Zinke that allows for more roundups of horses and burros, but insists on more active adoptions of the animals and the application of contraception as a core tool for on-the-range management.
"The old model of rounding up wild horses and doing nothing to control the growth rate of the remaining horses on our public lands has been a ruinous strategy," said Wayne Pacelle, president of the humane society.
Populations are growing fast on both the range and holding facilities, and it's breaking the bank for the BLM, he added.
"The idea of mass slaughter or euthanasia will be never be acceptable to the American public, nor should it. Fertility control, in combination with selective gathers and more effective adoptions programs, is the only viable path forward," Pacelle said.
Former Mohave County Supervisor Steve Moss ignited public outcry last year when he tongue-in-cheek proposed legislation for open hunting of wild burros.
His intent was to prod the BLM into being more proactive in controlling the burro population in the Black Mountain herd management area, which has increased over time to an estimated 1,400 to 1,800.
The Wild Free-Roaming Horses and Burros Act was established in 1971 to protect wild horses and burros on federal land, placing them under jurisdiction of the BLM.
Among other things, the act requires the BLM to "maintain a thriving natural eco-balance among wild horse population, wildlife, livestock and vegetation to protect the range from deterioration associated with overpopulation."
"It's become a problem in that the BLM has not adequately maintained the herd and it's causing problems with the ecosystem," Moss said.
The burros have pushed out habitat indigenous to the desert such as quail and bighorn sheep, local outdoor groups claimed.
"They're all competing for the same resources. They all need water and they (burros) foul the pool," Moss said.
Costly care
The BLM estimates that more than 38,000 wild horses and burros are roaming federal land in 10 Western states. Another 35,000 are fed and cared for at short-term corrals and pastures.
Costs for the program, particularly for those in holding facilities, have risen dramatically in the last several years. About $29 million, or 70 percent of the wild horse and burro program budget, is spent on animals held in corrals and pastures.
In his book, "The Humane Economy," Pacelle wrote about fertility control work in the Sand Wash Basin of northwest Colorado where volunteers worked with the BLM to treat wild mustangs with darts filled with fertility vaccine PZP.
"This painlessly delivers the vaccine without any need to handle the animal. It's far better from a fiscal perspective to keep the horses on the range and to avoid gathering them up, thereby allowing them to forage on what nature offers, as compared to feeding them every day in a holding facility," Pacelle said.