Council members, vice mayor elected to be interchange delegation
Originally Published: November 10, 2017 5:59 a.m.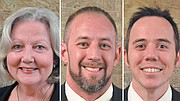 KINGMAN – City Council moved forward with Kingman Crossing with a unanimous vote Tuesday to approve a preliminary plat for rights-of-way necessary for Kingman Crossing Boulevard to connect with Airway Avenue from the proposed I-40 interchange.
The preliminary plat would create three lots on the land owned by the City of Kingman, one that will be retained for open space and drainage, and two that will be available for future sale for development.
The action was one of several agenda items related to the proposed Kingman Crossing and Rattlesnake Wash interchanges.
Council voted 5-2 to designate Vice Mayor Jen Miles and Councilmen Travis Lingenfelter and David Wayt to serve as Kingman's official delegation to present a request for $20 million for the I-11 East Kingman Connection project from Gov. Doug Ducey on Nov. 27. They'll also go in front of Arizona Department of Transportation in early 2018.
Lingenfelter was formerly on the Rancho Santa Fe Parkway (Rattlesnake Wash) subcommittee, and Wayt was on the Kingman Crossing subcommittee.
Councilwoman Vickie Kress voted against the motion because she wanted Mayor Monica Gates on the delegation, and Councilman Stuart Yocum wanted someone from Mohave County Board of Supervisors.
The delegation will be supported by state Rep. Regina Cobb, R-Kingman, who attended the council meeting at Lingenfelter's request to discuss how the city should make its presentation to the governor.
Cobb attended a previous stakeholders meeting to discuss the options of building one or both interchanges, and said her opinion is that if the city constructs just one interchange, the second will never get built.
Rattlesnake Wash was taken off ADOT's five-year transportation plan, and there's a chance it will never be put back on the plan, she said.
Cobb said she would be happy to work with the city in presenting a plan to the governor for $20 million in ADOT funding. Ducey is "amenable" to the plan, she added.
"We have a lot of background done, but we're not far enough along," the state representative told Council. "If we don't get in by January, this will be put on the back burner. He's (Ducey) going to be running for office."
Under old business, Council voted 5-2 to prepare a request for qualifications to hire a program manager for the I-11 East Kingman Connection project.
The project manager will work closely with city staff, property owners, ADOT and other stakeholders in the project, and will be actively involved throughout the design and construction.
The wording of the motion was changed from design-build services to at-risk management.
"It's important that we have a team that can oversee the whole enchilada," Lingenfelter said. "We only get one shot to do this right."
Councilwomen Kress and Gates voted against the RFQ for project manager because of their concerns over funding. Kress said she would not support any vote for the I-11 Connection until staff has included all financial information.
Miles said it's a "moving project," and that the numbers are still evolving. The city has identified funding for one interchange, but $20 million from ADOT is needed to do both, she said.
Editor's Note: Who voted against the RFQ for project manager was incorrectly reported in the original post. Councilwoman Kress and Mayor Gates voted against.
More like this story
SUBMIT FEEDBACK
Click Below to: