Hell Fire Valley was just that in the Korean War
Benjamin Gabijan, SGT., Marine Corps (RET)
Originally Published: November 11, 2017 5:57 a.m.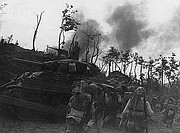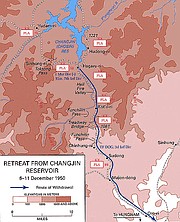 Retired Sgt. Benjamin Gabijan was with the 1st Bank Battalion, 1st Marine Division during the Korean War. Gabijan was a gunner on Tank B-33 in the taking of Seoul and was hit in the Hell Fire Valley as they made their way from Koto-ri to Hagaruri below the Chosin Reservoir.
"There are so many stories that came out of Korea," Gabijan told the Daily Miner. "Others can tell it so much better than I can."
Lt. Col. D. B. Drysdale, commander of the Royal Marines 41 Commando, left a note about ferociousness of Gabijan and the 1st Marine Division. Both units were awarded the American Presidential Unit Citation.
"This was the first time that the Marines of the two nations had fought side-by-side since the defence of the Peking Legation in the 1900s," Drysdale wrote. "Let it be said the admiration of all ranks of 41st Commando for their brothers was and is unbound.
"They fought like tigers and their morale, esprit de corps is second to none."
1st Tank Battalion, 1st Marine Division Commanding Officer, Lt. Col. Harry T. Milne, described what the battalion accomplished for which the country and those who served during those times should be proud of.
Milne wrote that "never before Korea, and never to this day (Oct. 16, 1997), has there been a Marine Tank Battalion that had traveled as far on its own power" like his unit had to from August 1950 to May 1951.
The battalion was made up of reserves who had never fired the M26 gun before Inchon, and M26 drivers who had never driven the tank off a landing craft. B Company fought through street fighting, horrific weather and was last to be evacuated. All of this was done without a single day of training as a unit.
"This is a tribute to the 'can do' spirit of the Corps," Milne wrote.
More like this story
SUBMIT FEEDBACK
Click Below to:
This Week's Circulars
To view money-saving ads
For as little as $3.49*