Out with the old: MCC's MC4 Computer Club and City of Kingman Public Works are hosting a technology recycling drive Saturday

Originally Published: November 17, 2017 5:58 a.m.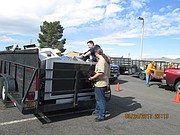 What happens to technology when it gets old? Does it sit in a closet for years gathering dust? Decorate a landfill? Stripped for parts or materials?
Mohave Community College's MC4 Computer Club hopes that rather than letting it sit or filling a landfill, community members will recycle their old tech.
The bi-annual event is organized by MC4 and the City of Kingman Public Works Department. The Technology Recycle Drive is Saturday from 9 a.m. – noon at the Public Works Yard, 3700 E. Andy Devine Ave., on the same side of the road as the Motor Vehicle Department.
Items accepted include televisions, monitors, computer components, records, MP3 and video players, DVD/VHS players, digital cameras, radios, telephones and printers. Car batteries or other items containing Freon will not be accepted.
Andra Goldberg, MC4 club adviser for the Neal Campus-Kingman chapter, said this is their 15th year doing a tech recycle drive. Last November, the club and city collected 3,060 pounds of computers, printers and televisions to be recycled. In March, they collected 9.7 tons, or 19,400 pounds, of old tech in the three-hour event.
Since 2014, they have recycled 62,039 pounds of electronic waste.
Ed Tapia, City of Kingman Sanitation Superintendent, said they will be prepared with plenty of trailers to accommodate the event.
"We hope to help the community recycle tech instead of it going to the landfill," Goldberg said.
After the old tech is gathered, it is trucked to Westech Recyclers in Phoenix where it is safely recycled.
Goldberg said they often collect a little bit of everything.
"Some people just don't want to buy ink for their printer," Goldberg said. "And repairing things is so expensive. It's easier to recycle it."
Goldberg said the MC4 club also removes hard drives from computers and will either erase all the data or smash it at the request of whoever is recycling the computer. She said people often worry about recycling or throwing away old computers with personal data on them, which is why the club will smash the hard drives.
"Most of the time, the people who come are repeat people, since this is a bi-annual event," Goldberg said. "Please come, bring old equipment. We'll remove the hard drive for you."
Tapia said the event is free and people should take advantage of the opportunity to reduce the electronic waste entering landfills.
"Overall the program is a great program, and the City of Kingman is very fortunate to be working with M.C.C. and Mrs. Goldberg and her students," Tapia said.
More like this story
SUBMIT FEEDBACK
Click Below to:
This Week's Circulars
To view money-saving ads
For as little as $3.49*