Donating a Thanksgiving: It's the season for giving and local charities need help to help others
Originally Published: November 19, 2017 6 a.m.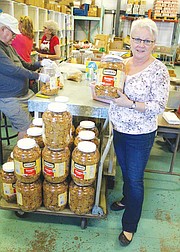 KINGMAN – It's the season of the year for giving, and you don't have to look far to find a charity that needs help to help those who are less fortunate.
Catherine Walker, executive director of Kingman Area Food Bank, is constantly clamoring for donations to feed needy families, not only for Thanksgiving and Christmas, but throughout the year.
The food bank provided groceries for 31,198 people in 2016, enough to provide two meals a day for seven to 10 days.
Contributions are getting scarce, and Walker understands that Americans are overwhelmed with donor fatigue from the floods, fires, hurricanes, mass shootings and other tragedies that seem to be daily occurrences.
"Donations are way down from last year," she said Friday. "They're not down just for me, they're down for everyone. We don't know if it has to do with the disaster in Houston, or they're just not freeing up money like last year."
Walker had just four turkeys to feed 450 families a week before Thanksgiving, so she went to Walmart and bought 100 turkeys for about $1,000. She expects donations to come from Laughlin casinos, but they will not commit to a quantity. Call 928-757-4165 to donate.
So if you can afford it, toss an extra turkey somebody's way. It'll bring a little peace of mind when you're kicking back at home, cooking up a massive feast, watching football, toasting to good friends and family and counting your blessings.
Turkey Tuesday
This is an annual event coordinated by Society of St. Vincent de Paul and Basha's grocery store, 3360 E. Andy Devine Ave., from 9 a.m. to 5 p.m. Tuesday. You can help the community by donating turkeys, trimmings and fixings for needy families.
With help from its customers, Basha's has contributed more than half a million pounds of food for those in need over the years. In addition to turkey, St. Vincent de Paul volunteers deliver a box of food for a complete Thanksgiving meal.
Smith's Bringing Hope
Smith's Food & Drug at 3490 Stockton Hill Road is offering customers a convenient way to reach out and help others during the holiday season with its "Bringing Hope to the Table" donation drive.
Customers can donate $1, $5 or $10 through their grocery orders, and 100 percent of the money will go to Smith's gift cards for St. Mary's Food Bank Alliance to purchase meat, grocery items, dairy or other needed items at cost.
"Just a few dollars can create a nutritious meal for another person who otherwise would go without," said Aubriana Martindale, corporate affairs manager for Smith's.
Smith's helps fight hunger throughout its seven states of operation, including donations to Kingman Area Food bank and other pantry networks in Northern Arizona.
Floyd & Co. BBQ
Society of St. Vincent de Paul, through St. Mary's Catholic Church, is providing a free Thanksgiving meal for the homeless at Floyd and Co. BBQ, 420 E. Beale St., from 11 a.m. to 3 p.m. on Thanksgiving Day. St. Vincent de Paul is referring its clients in need, especially the homeless, to the free meal. The church needs turkeys, dressing, gravy green beans, cranberry sauce and boxes mashed potatoes.
Cornerstone Mission
If you know a family in need of a Thanksgiving food box, refer them to Cornerstone Mission, 3049 Sycamore Ave. Cornerstone will be distributing 50 boxes to families from 9 a.m. to 5 p.m. on Thanksgiving Day. Sign up in person; no phone calls.
Cornerstone will be serving a Thanksgiving meal to anyone in need from 3-6 p.m. The mission is need of the following items:
Twenty bags of frozen green beans (enough for 200 servings); 10 tubs of cool whip;10 large tubs of sour cream; 20 packages of cherry or raspberry jello; five gallons of whole milk; 200 rolls; butter; celery; pies; 20-30 packages of stuffing mix; large sturdy paper plates (200); and plastic cutlery (200 sets).
Also, anyone with technical skills who can help with Cornerstone's web page is asked to call Executive Director Lisa Fitzgerald at 928-757-1535.
More like this story
SUBMIT FEEDBACK
Click Below to: