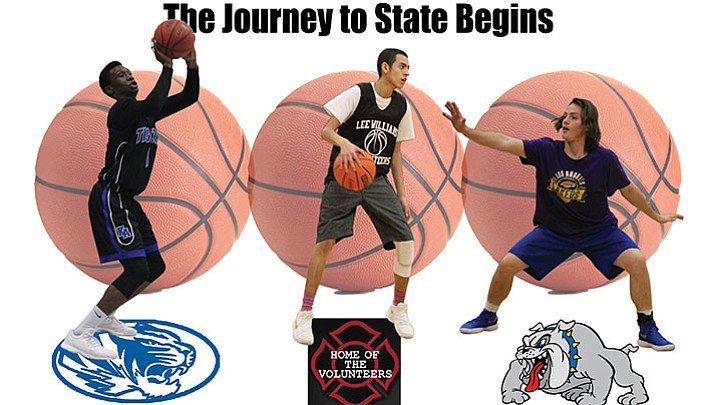 Originally Published: November 19, 2017 6 a.m.
KINGMAN – The Kingman High School boys basketball team has focused on one goal leading up to this season – making the state tournament.
The Bulldogs are well aware of their 12-year postseason drought, but third-year head coach Nick Juby knows this could be the squad.
"I always had a three-year plan with this group – I saw the potential," Juby said. "I thought if everything goes right and everyone develops like they should, this could be a pretty good group. Ending that 12-year drought would be huge for the town, for the school and these kids. It's a big deal."
Kingman will definitely have its work cut out for it after going 5-12 overall and 4-6 in the 3A West Region. The Bulldogs return three players, including two starters, from last year's squad and will turn to a number of players to step up this season.
"It's going to be a team effort," Juby said. "If everyone does a little bit here and there, it's a lot easier."
The fact that many of the players spend a lot of time together will help in accomplishing that goal.
"Chemistry-wise, I will say this group is really on the same page," Juby said. "These guys are pushing each other every day to get better in practice, at the Wellness Center and everywhere. It's a really tight-knit group. They're buddies, they all like playing together. That part has helped."
The bond has not only made practice easier, but it has also created a buzz in practice that Juby has never seen. He said the players are dialed in, focused and know what to expect.
"I've said it since probably our first practice a couple of weeks ago – there's just a different energy in the gym," Juby said. "You can hear it – this the loudest this gym has ever been in three years."
However, the biggest question mark for the Bulldogs is their size, as Juby knows that will be one area they'll struggle with during the season. He does expect the team's athleticism to make up for that, but still wishes he had a few big players.
That doesn't mean Juby isn't happy with his team – especially senior Elijah Howery.
"Elijah has a chance to be something really special, 3A-wise, point guard-wise and even in this area," Juby said. "He led 3A last year with six assists a game, which that's not easy to do. You're contingent on someone else making a bucket. He's court vision has improved, his quickness. He's really stepped up as a leader."
Howery will get his first chance to live up to his Juby's praise Monday when the Bulldogs travel to Kingman Academy for a 7 p.m. game. Kingman will then welcome Lake Havasu to town at 7 p.m. Tuesday. While Juby knows the opening games are important, he is looking forward to the Dec. 15 contest at Lee Williams.
"The first game is always good because it's the first one – that tells you a lot right off the bat," Juby said. "I've always ascribed to 'the next one' is the most important. But the Lee game is always fun. These guys play against those guys all year around. They're at the park and at the Wellness Center, so they know each other really well."