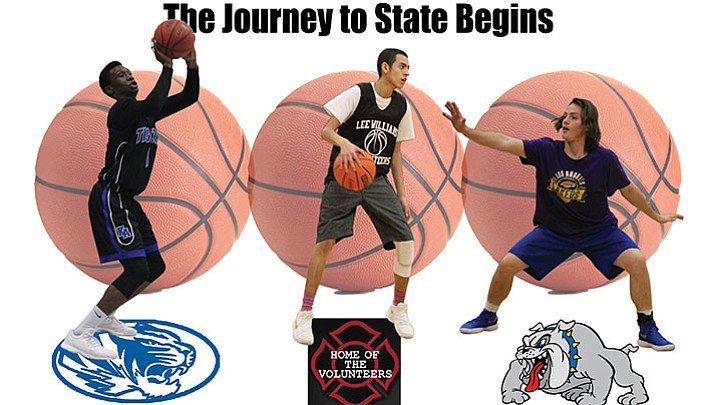 Originally Published: November 19, 2017 6 a.m.
KINGMAN – If all goes according to plan, the Kingman Academy High School boys basketball team will be celebrating another 2A West Region title at the end of the season.
While it's far too early to know if that will happen, first-year head coach William McDavid has faith in the Tigers developing into a champion-caliber team.
"Where we're going to be Monday and Tuesday is hopefully going to be nothing like what we're going to be in February," he said. "We're going to grow throughout the year. We didn't grow that much throughout the summer because we're all new to each other. The players and I are trying to see what works the best. Now that we're in full speed, I expect a tremendous amount of growth."
The Academy finished 12-6 overall and 9-1 in region last year, capped off with a region title. The Tigers saw their season end with a loss at Pima in the state tournament. Luckily, only two seniors graduated from that squad and that gives McDavid a positive outlook for the 2017-18 campaign.
"We almost have everyone coming back," he said. "We had a couple of folks who unfortunately didn't make it, but they'll be ready for it next year. A couple of players decided not to play, but we have a lot of dedicated talent coming back. I'm extremely excited to see what they're going to put together on the floor. They have amazing team chemistry."
The bond isn't the Academy's only strength though, as McDavid mentioned that player intelligence is an X-factor. He said two seniors are in the top 10 of their class, while seven are on Honor Roll.
"Their knowledge – not only in the classroom, but in the game is going to push us to the next level," McDavid said. "We have athleticism, speed, strength, but everyone has that in the state. Our knowledge and our high IQ is really going to put us on the map."
Adding to the intelligence is the fact that the Tigers have a number of players that can fill in gaps. McDavid admitted that they're not 100 percent in any position, but he feels comfortable with his depth.
More specifically, the Academy will lean on Tyler Chinyere after he averaged 13.5 points and 10.3 rebounds per game last season.
"He was with me every single day – the kid is a gym rat," McDavid said. "He's only looking to get better. He wants to come in and improve – he uses that time wisely."
Another player that should make an impact is Nate Perea. While he only played in eight games last season, McDavid sees potential in the junior point guard.
"He and I have connected significantly," McDavid said of Perea. "The more he and I communicate, the better our team is going to be."
The first test for the Tigers is at home against city rival Kingman High at 7 p.m. Monday. The Academy then hosts Lee Williams at 7 p.m. Tuesday.
"We're really excited about Kingman and Lee Williams," McDavid said. "In conference, we're looking at Parker and Trivium Prep. They're always really strong. Last year it came down to the wire with us and Parker to decide the conference."