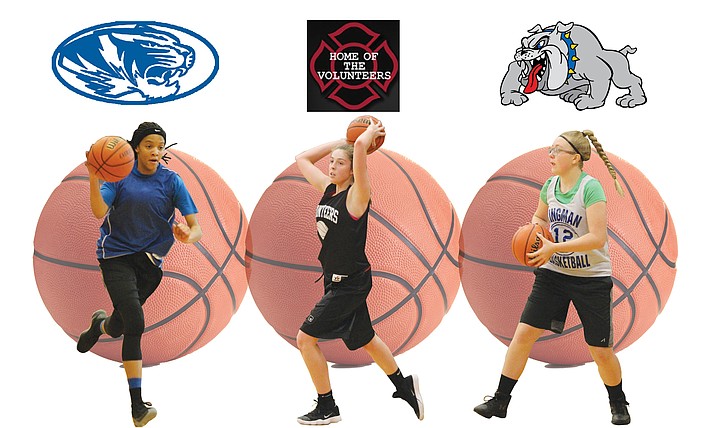 Originally Published: November 22, 2017 5:41 a.m.
KINGMAN – The Lee Williams High School girls basketball team used balanced scoring and pressure defense to win its home opener 39-15 over Kingman Academy on Tuesday night.
"Our intensity level was very high at the beginning and the girls never lost focus," said head coach Jerry Arave. "They hustled for every ball and came away with some key steals early."
The Lady Vols (2-0) started fast and furious by scoring 13 first quarter points and holding the Lady Tigers to a single field goal.
Lee Williams continued the defensive pressure and only allowed the Academy to score three points in the second quarter as it built a 17-point halftime lead. It was a similar story in the second half as the Lady Vols went on to pick up their second straight win of the season.
Cassidy Torrey led Lee Williams with 10 points, while Siona Allen scored six and Haylee Davis added five points. Sadie Snay and Ellie Thomas each had four points, while Madison Arave and Kaylee Bond added three points each.
Chloe Elliott led the Academy (1-1) with 11 points, while Canya Thompson scored three and Emily McCracken tallied one point.
The Lady Vols play at Cactus Shadows at 7 p.m. Wednesday, while the Academy plays at Lake Havasu Tuesday at 5:30 p.m.
Kingman 32, Lake Havasu 26
At KHS, the Lady Bulldogs bounced back from a loss to the Academy as they won their first game of the season Tuesday night in a 32-26 victory over Lake Havasu.
Kingman (1-1) hosts Mohave at 5:30 p.m. Tuesday.
Boys Basketball
Lake Havasu 55, Kingman 53
At KHS, the Bulldogs couldn't keep the momentum rolling from their season-opening win over the Academy as they dropped a 55-53 loss to Lake Havasu Tuesday night.
Kingman (1-1) welcomes Mohave to town Tuesday for a 7 p.m. contest.
Girls Basketball
Lee Williams 55, Parker 31
At Parker, the Lady Vols opened their season Monday night with a convincing 55-31 win over Parker.
Madison Arave scored eight of her team-high 16 points in the third quarter. Sadie Snay knocked down two 3-pointers in the fourth quarter and finished with 10, while fellow senior Cassidy Torrey finished with 8 points.
Ellie Thomas and Haylee Davis rounded out the top performers with seven points each.