Meeting the man behind the chuckwalla statue
Controversy is raging around the approved $10,000 chuckwalla lizard statue, but the artist behind it all wasn't simply looking for a price tag.
Originally Published: November 26, 2017 6 a.m.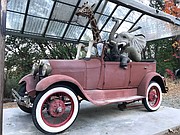 Solomon Bassoff uses his artistic talent to raise awareness of nature, specializing in wildlife sculptures like the Arizona chuckwalla lizard that he's creating for Kingman's Art in Public Places.
It's not so much the lizard itself that stirred a little controversy – nobody wants Kingman to be known as the "lizard town" – but the $10,000 price tag approved by City Council.
"That's just peachy," a Daily Miner reader said. "Hire a California artist to make a lizard sculpture when it could be done by local school kids."
That's doubtful. The city received just three proposals when the art project was announced in August, two from local artists and one from Bassoff, who owns Faducci studio in North San Juan, California, in the foothills of the California Sierra Nevada.
Even with extra weight given to local artists, Bassoff's project scored the highest. The 65-year-old former home builder has spent some 35,000 hours perfecting his art, and his work is on display in cities such as Oklahoma City, Seattle and Washington, D.C.
"I do typically a search of the area to look for wildlife in the area of interest," Bassoff said in a telephone interview from his 5-acre ranch surrounded by forest and nature. "It's just an opportunity to make people aware of nature around them. So I did research and saw a video of the chuckwalla and thought, 'That's a beautiful looking lizard,' and it was mentioned on wild animals in the area."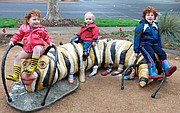 Bassoff and his partner, Domenica Mottarella, create unique sculptures made with handcrafted cement and glass mosaic.
Bassoff learned that cement can be used for more than foundations of homes. He changed the form and idea of cement so that it can be viewed in many different ways.
He also refined the process of hand-sculpting concrete, which is typically put into a mold or carved.
"Very few do hand-sculpted," the artist said. "You create a pretty unique form with a pretty common material."
Cement as a material has come a long way, and durability is always a factor in public art, Bassoff added. Hundreds of children crawl all over his Komodo dragon at Woodland Park Zoo in Seattle and his 8-foot "Bellapede" caterpillar at Davis Central Garden in Davis, California.
Bassoff said $10,000 is actually a low price for his artwork, considering the amount of work involved. He typically gets $20,000 for some of his larger pieces. That includes materials and shipment.
The pigmented chuckwalla lizard sculpture will be 7 feet long, 4 feet wide and 3 feet high, embedded with Italian glass mosaic. It will weigh 1,300 pounds.
Bassoff has been working on a new piece with endangered species driving a 1929 Ford Model A. There's a black rhino behind the wheel, a giraffe in the passenger seat and African elephant in the back.
"It's very impactful," he said. "My heart is with endangered species, and this is a way to evoke conversation and awareness of the impact we're having on the planet."
While some citizens were outraged by the city commissioning Bassoff's public artwork, others are more positive about the project.
One Daily Miner reader loves the recycled metal artwork known as "Running Hare" on Andy Devine Avenue at Fourth Street, the first public art display created by former ArtHub resident Don Gialanella.
"Someone is always stopping to look. Who knows maybe part of the El Palacio (restaurant) customers started as 'Running Hare' lookers. And that's a good thing," the reader commented.
Josh Noble, tourism director for the City of Kingman, said the goal of Art in Public Places is to provide more visual interest in Kingman, to add value to public space and instill pride in the community.
"Kingman has an eclectic mix of murals, neon signs and historic structures," he said. "But it became all too obvious just how much public art Kingman lacked when we looked around for existing samples. There isn't much and we hope to change that."
Bassoff understands people's concerns about the price of his artwork, but they need to know that it takes hours and hours and a certain amount of talent to put together a piece like the chuckwalla.
"There's value in art. There's value in the beauty that surrounds us," Bassoff said. "Why is there classical music? Because we all appreciate that the wonderment of being human beings is to enjoy creation."
More like this story
SUBMIT FEEDBACK
Click Below to:
This Week's Circulars
To view money-saving ads
For as little as $3.49*