Getting help from a Red Kettle: The Salvation Army's annual Red Kettle drive has begun
Money raised goes toward the Salvation Army's food program, utility program, clothing and emergency assistance
Originally Published: November 29, 2017 6 a.m.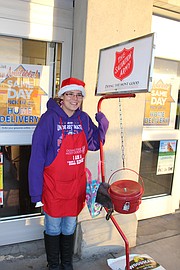 Sara Leblanc stood outside Smith's grocery store ringing the bell Monday for Salvation Army's annual Red Kettle drive, her hands pulled up into the sleeves of her hooded sweatshirt as a cold wind drove temperatures down after a beautiful Thanksgiving weekend.
She greets everyone with a smile and "Merry Christmas," but most of them hurry past her without a response and nary a second glance.
While charities and organizations asking for donations during the holidays seem to outnumber stars in the universe, the Salvation Army is among the stalwarts, founded in England in 1865.
It's the third year that 22-year-old Leblanc has worked the kettles for the Salvation Army, earning a little extra cash for the holidays, meeting some nice people and collecting money for the less fortunate souls of Kingman.
"I gave it a try and loved it ever since," she said.
Last year, Salvation Army of Kingman collected about $30,000 during the Red Kettle drive, which runs from the day after Thanksgiving to Christmas Eve. The familiar red kettles can be found outside Smith's, Walgreens and Walmart six days a week from 10 a.m. to 6 p.m.
It's not just cash and coins that are dropped into the kettles, said Troy Palmer, director of the Salvation Army in Kingman.
"We've had engagement rings, someone put in silver dollars. Every season there's a couple of $100 bills. The community really gives," he said. "A widow put her husband's wedding band in the kettle last year."
Grinches have stolen Salvation Army kettles in some cities, but Palmer said he's been extremely fortunate in his six years as Kingman's director that no kettles have been stolen.
"I told my kettlers if someone feels they need it more, let it go," he said. "I would say our community is very vigilant. They keep a close eye on the kettles."
Keep it coming
American generosity overflows during Christmas season with about one-third of charitable donations coming in the month of December, but the need is year-round, Palmer stressed. The town does see greater influx in the winter, he added.
"Everyone is keenly aware around the holidays, but this is my life 24/7. They don't stop being homeless on Jan. 1. It's still part of their life," Palmer said.
All of the money collected in Kingman stays here, he noted. It goes toward the Salvation Army's food program, utility program, clothing and emergency assistance.
"You see it with people here getting food boxes. They just have to come in," Palmer said.
People like Enoch Moon, who just moved to Kingman from Maine with his 14-year-old daughter after his wife died. He's been living on the streets and hadn't eaten in three days.
"They definitely tried to help," Enoch said while he waited for food at the Salvation Army, 1200 E. Andy Devine Ave. "They gave us two sleeping bags. We don't have anything."
Palmer hears hundreds of stories like that. Mohave County has a high homeless population, and once they get into that cycle, it's hard to get out, he said.
The Salvation Army serves a hot lunch at 11 a.m. on Tuesday, Wednesday and Thursday, feeding 543 individuals in October, and distributed 125 turkey food baskets for Thanksgiving.
"We do the best we can. We can't help everybody," Palmer said.
However, with Cornerstone Mission, Kingman Area Food Bank and St. Vincent de Paul, nobody should go hungry in Kingman. There's food available every day, he said.
Army life
Born and raised in Denver, Palmer attended a private college in Chicago and earned his degree in interior architecture. He came to Kingman seven years ago to be near relatives and took a job as cashier at the Salvation Army thrift store.
"I'd never been in a Salvation Army in my life, so to be at a Salvation Army in a small town with low-income families was 180 degrees in my life and one of best course redirections I ever had," Palmer said. "It was never a path I thought I'd be down, but seven years with the Army … they do good."
Palmer recognizes that people have to make choices about who to give their money to, who's legitimate, how much of their money actually gets to someone in need and how much goes toward paying a CEO's salary.
Organizations such as United Way, UNICEF and American Red Cross have come under fire for large CEO salaries.
Salvation Army is structured in such a way that administrative costs are kept to a minimum because the leaders understand what the community needs, Palmer said.
"I would say at the end of the day it's still a business, but overall, they are very conscientious about the community and public," he said. "You do not get into the Salvation Army to get rich."
Palmer added that the Salvation Army is at the whim of the public, and across the nation the public has voted to raise minimum wage, and even as a 501(C) nonprofit, Salvation Army is not exempt from paying the increased wage. That will create financial pressure, but Palmer will make adjustments and compensate the best he can, he said.
More like this story
SUBMIT FEEDBACK
Click Below to: