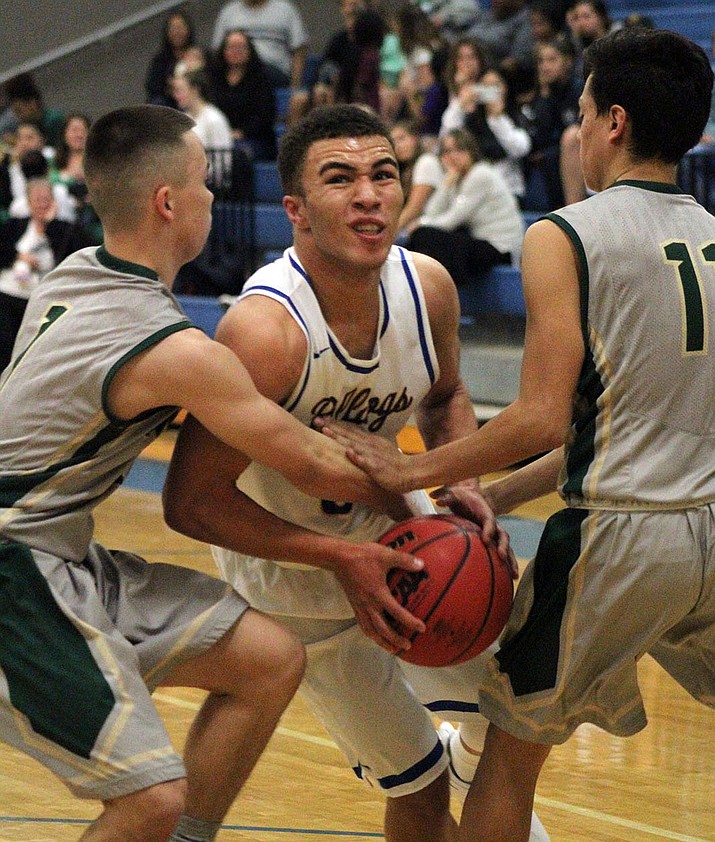 Photo by Beau Bearden.
Originally Published: November 29, 2017 6:30 a.m.
KINGMAN – When a team goes 3-for-19 from the free-throw line, it's difficult to win a game.
That was exactly the case Tuesday night for the Kingman boys basketball team as it couldn't take advantage from the charity stripe in a 59-43 loss to Mohave.
"They're a very good team," said Kingman head coach Nick Juby. "… Joe Heath can play. In the first half he missed a few, but I knew he was going to get going in the second half. He will play at the next level."
Heath definitely lived up to Juby's praise as he finished with a game-high 28 points to lead the T-birds.
Mohave (1-0) sank 13 treys, while the Bulldogs tallied eight.
Quanah Quasula led Kingman with 13 points, while Gage Plummer, Elijah Howery and Nate Lawson each finished with six points.
Kingman (1-2) hosts Kingman Academy (0-3) at 7 p.m. today.
Lake Havasu 63, Academy 55
At KAHS, the Kingman Academy boys basketball team couldn't pick up its first win of the season Tuesday night as it dropped a 63-55 loss to the Knights.
The Tigers (0-3) make the short drive to play Kingman High (1-2) at 7 p.m. today.
Girls Basketball
Mohave 49, Kingman 48
At KHS, the Kingman High girls basketball team just fell short Tuesday night in a 49-48 loss to the Lady T-birds.
"We need to work more on our rebounding and blocking out," said Lady Bulldogs head coach Tony Kern. "That killed us the whole game."
Kern added that Kingman didn't get in foul trouble, which is something it can build on.
The Lady Bulldogs (1-2) host Kingman Academy (1-2) at 5:30 p.m. today.
Lake Havasu 28, Academy 20
At Lake Havasu City, the Kingman Academy girls basketball team dropped a 28-20 loss to the Lady Knights Tuesday night.
The Lady Tigers (1-2) travel to Kingman High (1-2) at 5:30 p.m. today.