J'aime Morgaine sues Rep. Paul Gosar; claims First Amendment rights infringed
Originally Published: October 5, 2017 6 a.m.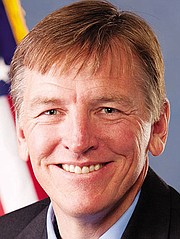 KINGMAN – Okay, J'aime Morgaine admits there's a possibility that she may have inadvertently, in the heat of her political passion, posted a profane term in a comment on Rep. Paul Gosar's Facebook page.
Probably something about the congressman being a "perfect example of the political (rhymes with duck)-watering that has become Washington status quo." It's a term she's used on her own Facebook page.
That one-time offense should not be reason enough for an elected official to block her from his page, Morgaine contends in a federal lawsuit filed Sept. 8 at Sandra Day O'Connor Federal Courthouse in Phoenix. She feels her First Amendment rights have been violated.
Morgaine said she would have no problem if Gosar, R-Prescott, simply deleted the comment. She deletes her own posts sometimes after realizing she may have gone a little overboard with her language.
It's just a reaction Morgaine gets in her brain when she hears "vile, misogynistic, bombastic" words spewed from the mouth of President Donald Trump, and sees Gosar supporting him and voting opposite of what he promised.
"He's our congressman and every Facebook post is like a little sign we're carrying," said Morgaine, who recently moved to Kingman from Prescott to care for her elderly father. "It's a public constituent feedback forum, and he's picking and choosing who can post. That's why I filed a lawsuit."
Morgaine first filed a complaint with Gosar and the American Civil Liberties Union about nine months ago. ACLU sent her a letter in June saying they were interested, but didn't have the staffing. She called a Phoenix attorney with experience in constitutional law area, but he didn't return her call, so she figured he didn't want to pursue the case.
"Those were my options. Wait for ACLU or file on my own," she said.
And as a disabled Army veteran, her filing fee was waived. It's believed to be the first lawsuit of its kind in Arizona, even though Gosar has blocked hundreds of constituents from his Facebook page.
Morgaine said ACLU has shown more interest in the case, with staff attorneys saying it would be stronger if they amend the filing by adding people who were blocked with no issues of profanity. But this much is certain: they're active in the case.
A statement from Gosar's office to the Daily Miner said: "Congressman Gosar is not concerned about the lawsuit. His chief legal counsel has reviewed and is confident that Dr. Gosar has not infringed upon the (First Amendment) rights on any of his constituents."
"So you're upset I blocked you on Facebook. Here's why I don't care, a three-part series," Gosar wrote in a 400-word narrative on his Facebook in July.
The first part was about First Amendment rights.
"If you think a block on Facebook is infringing upon your constitutional right to petition the government, you are sorely mistaken," Gosar wrote. "You want to petition the government? Terrific. Call my office and file a complaint."
Second, Gosar said Facebook is his property. There's this disclaimer on Gosar's official page:
"We reserve the right to hide or delete user comments that include profanity, name-calling, threats, personal attacks, known factual inaccuracies or other inappropriate comments or material at our discretion."
Morgaine refers to a section of the Members' Congressional Handbook that spells out member websites are subject to the same requirements as their official website.
Additionally, Gosar said he reserves the right to ban anyone who repeatedly "spams" his page with off-topic links, videos or comments unrelated to the topic under which they are posting.
"Because, quite frankly, we don't care if a Facebook block offends you," Gosar finished his post.
Morgaine said she's not just disappointed in Gosar's decision to block hundreds of his constituents, she's mad about it.
"It's a public forum. There may be good reasons for blocking some people … threats, hateful comments … absolutely those are not First Amendment-protected and can be banned even by Facebook," she said.
Morgaine said she contacted Brian Davison, who won a similar case against an elected official in Loudon County, Virginia, though it's being appealed.
Davison told her there were differences between the two cases, but he sent everything to help her develop a template for the lawsuit. Morgaine said she went through seven or eight versions of wording because she had never filed a complaint in federal court.
Morgaine told the Daily Miner she's not a negative person who's anti-this and that, but she is taking a stand against what's happening on Capitol Hill and what's being supported by Arizona's elected officials.
It's quite evident that Morgaine is a bluntly honest person, and she doesn't fall for Gosar's "warm and fuzzy" image.
"In general with all three federal officials, I just got really outraged by the campaign and what they were supporting, so I got very vocal on Gosar and (Sen. Jeff) Flake and (Sen. John) McCain," she said.
Morgaine also spoke to City Council Tuesday about canceling Gosar's office lease with the city. He's never in the office, and he's not responsive to constituents, she said.
More like this story
SUBMIT FEEDBACK
Click Below to: