Anti-hunting groups seek to ban hunting of mountain lions in Arizona

Originally Published: October 10, 2017 5:59 a.m.
Two radical anti-hunting groups are trying to get the hunting of mountain lions and bobcats banned in Arizona, and they are going to try and do it by going to the state's voters by ballot initiative.
The Humane Society of the United States and a group called Arizonans for Wildlife have teamed up and are seeking to get the voters of Arizona to sign a petition that would put a call for the banning of the hunting of a number of species of cats in Arizona on the ballot in November 2018.
What is ludicrous is that there are three of the species listed already which are protected from hunting by the Endangered Species Act. Another cat they seek to protect, the Canadian Lynx, doesn't even exist in Arizona!
That leaves just mountain lions and bobcats, and according to the Arizona Game and Fish Department, the hunting and trapping of these species are already covered by rules and regulations.
These anti-hunting groups need to gather petitions that are signed by 150,642 Arizona voters to put the issue on the ballot in 2018. They have until July 5 to reach that threshold.
If they don't get the required signatures, then it won't be on the ballot.
If you believe that wildlife should be managed on a scientific basis and done so by trained professionals such as those in the Arizona Game and Fish Department, then you, your friends and neighbors need to spread the word about this ill-advised proposal.
The Arizona Sportsman for Wildlife Conservation is spearheading a statewide informational program that outlines how truly ludicrous this initiative is.
This group is a consortium of 34 different groups of conservationists, along with seven affiliate groups whose total membership exceeds 10,000.
CEO Jim Unmacht says, "As expected, HSUS and the Arizonans for Wildlife have not provided any data to support their proposed ban, and sportsmen and women clearly have the upper hand in that regard. Unfortunately, many on the other side of this issue cannot get beyond their emotions to even consider facts, and HSUS is counting on this."
Unmacht continued, "If the proposal gets on the ballot and is passed, then it will result in the citizens of this state rejecting over a century of sound scientific management from our Arizona Game and Fish Department biologists and turn over the management of wild cats to the ballot box."
There may be many out there that believe this initiative is about just offering protection for the lions and bobcats, which clearly is not warranted under the current rules and regulations and management practices.
The truth is that the plan of these antis is to ultimately stop all sport hunting in not only Arizona, but in America. This is just the first step. And the head of HSUS has made it clear that this is the group's goal.
The CEO and president of HSUS, Wayne Pacelle, was quoted in 2014 as saying, "We are going to use the ballot box and the democratic process to stop all hunting in the United States … We will take it species by species until all hunting is stopped in California. Then we will take it state by state."
Not coincidently in California, it is now illegal for anyone to hunt mountain lions. It is the only western state that prohibits the hunting of those big cats.
And the result is not just a loss of a hunting opportunity for its citizens, but now the California Game and Fish Department annually issues about 250 depredation tags to kill lions there.
Lions in that state predate not only on wildlife and livestock, but humans as well.
There have been a number of documented lion attacks on people and their pets. Some have unfortunately been fatal to humans.
In our state, the Arizona Game and Fish Department is charged with managing the state's wildlife. It includes animals that are hunted and those that are not. Currently, they are managing over 800 species of wildlife, including mountain lions and bobcats.
Here are some facts about the status of these two animals that the antis want to "protect."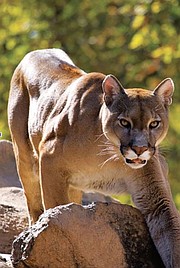 • Mountain lions are not rare in Arizona. Mountain lions are not endangered, threatened or a sensitive species. The department's harvest data suggests that mountain lion population is stable to increasing in many parts of the state. The department estimates there are between 2,000 and 2,500 animals in Arizona.
• Mountain lions are managed using "Best Available Science." By having a regulated harvest by sportsmen, the department feels this is the most effective tool to manage mountain lion populations.
• Mountain lion hunting is regulated by current state statute and commission orders. Currently it is illegal to harvest a female lion with kittens or to take a spotted kitten. Every harvested lion has to be physically checked by a department employee so age and sex data can be collected and analyzed.
• The department uses harvested female data to adjust open areas. and if the harvest of adult females exceeds a predetermined threshold, then hunting for lions in that area is stopped or moved. It should be noted that this threshold has never been reached!
If you would like to read about mountain lions and lion management in Arizona, follow these links.
Click on the AZGFD website at www.azgfd.com, then click on to Game Species, then highlight Mountain Lions, and you'll go a section where you can review four different sites that explains in detail how lions are managed in Arizona. It is not only very informative, but interesting as well.
After you read this information, you will see why there is absolutely no need to sign a petition to put this on the ballot.
I received a call recently from local livestock producer Anita Waite. Anita and Sherwood Koehn own the Cane Springs Ranch north of Wikieup.
Waite was alarmed about the initiative and offered up the reasons for her concern.
"We are continually losing a lot of our calves to lions," Waite said. "We've also seen a decline in the number of deer on our ranch, too."
Waite said other local livestock producers, as well as the Mohave County Farm Bureau and the Mohave Livestock Association, are also concerned about this initiative. Apparently, so is the Arizona Cattle Growers Association.
But facts notwithstanding, if this initiative ends up on the ballot, it's because of the liberal and uninformed masses in Phoenix and Tucson.
Unmacht said there are three things that informed citizens can do to defeat this.
1) Do not sign a petition for this initiative.
2) Do not make a contribution to HSUS, Arizonans for Wildlife, or any other supporter of this initiative.
3) Tell everyone you know what the facts are and what is going on!
This is going to be a long ongoing process that will see these groups sitting in front of grocery stores and big box stores, collecting signatures from the uninformed public.
I'll be writing stories on this periodically and promise to keep you all in the loop about what is going on by those groups that hope to end hunting in Arizona and the United States by whatever means they can.
SUBMIT FEEDBACK
Click Below to:
More like this story