Mohave County Assessor Jeanne Kentch shepherding changes in her busy office
David Louis, For The Daily Miner
Originally Published: October 10, 2017 5:55 a.m.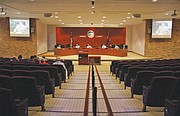 LAKE HAVASU CITY – When Jeanne Kentch, was appointed as Mohave County's assessor about a year ago she had a vision for her department, and she's making good on her dreams.
By next year there will be a dedicated customer service agent in both Lake Havasu and Bullhead cities for the county assessor and recorder's satelite offices. Havasu office hours will be lengthened to Monday through Friday, 8 a.m. to 5 p.m. And there are currently plans to lobby state lawmakers to expand tax exemptions for veterans.
Kentch began making steps for these changes while campaigning. Kentch and county recorder Kristi Blair heard a reoccurring complaint – Why didn't Lake Havasu and Bullhead cities have a dedicated customer service agent for their respective offices?
The answer, according to County Supervisors, came down to budget.
Kentch, a former business owner, came up with an innovative plan.
"I walked over to the recorder's office and asked if they would like customer service in Lake Havasu and Bullhead," she said. "The answer was 'yes,' so we decided to work together."
Kentch and Blair were approved to pool funding from their respective departments to hire a dedicated customer service agent in each location that would handle both assessor and recorder duties.
"Now you will be able to record documents right here without having to go all the way to Kingman," Kentch said.
More changes are on the horizon. Assessors statewide will lobby the legislature to modify who can qualify for property tax exempt status.
"What we are doing is expanding the exemption for our veterans," Kentch said. "Currently the exemption requires someone to be a widow, widower or 100 percent disabled.
"What the state's assessors are going to fight for and present to the legislature is if you're (less than 100 percent) disabled then you would qualify for (the percentage of your disability) as an exemption."
More like this story
SUBMIT FEEDBACK
Click Below to: