Wendy Howell, For The Daily Miner
Originally Published: October 13, 2017 5:09 a.m.
WILLIAMS – Family and friends are desperately searching for Cathryn Gorospe, a 44-year old teacher from Glendale who was reported missing after she posted bail for Charlie Malzahn at the Coconino County Jail in Flagstaff Oct. 6.
Upon leaving Flagstaff, police believe Malzahn and Gorospe traveled west via I-40 toward Williams.
Malzahn and Gorospe are familiar with northern Arizona and have worked previously in Williams.
Malzahn is the stepson of Williams Police Chief Herman Nixon.
According to Nixon, Malzahn spent two years at Williams High School and left home when he was 17.
Gorospe was reported missing by her roommate on Oct. 8 after she failed to return home. Malzahn was arrested Oct. 9 in Phoenix driving Gorospe's white Toyota RAV 4. The vehicle had sustained damage and blood was found in the interior. Gorospe was not with Malzahn when he was arrested and he has refused to talk to police about Gorospe's whereabouts.
After Gorospe was reported missing, officers and investigators with the Flagstaff Police Department immediately began trying to locate Gorospe, her vehicle and Malzahn. Gorospe and her vehicle were entered into the national database as missing. Flagstaff Police Department is the lead agency on her missing person case.
Today, approximately 35 family, friends and local volunteers met at the Williams Police Department (WPD) and fanned out to search roads and trails around Williams.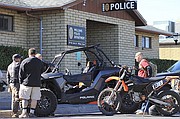 "We're focusing on Williams because this was the beginning of their journey," said Deidre Gorospe, Cathryn's stepmother.
"We are going on any road a RAV 4 could have traveled," added Cory Gorospe, Cathryn's brother. "We're prepared to stay out as long as we can. We've got lights, water, food, overnight gear and all terrain vehicles. We'll stay as long as conditions are okay and we have the energy."
The Gorospe family believes Cathryn met Charlie Malzahn this summer in Williams. Although a full-time kindergarten teacher at Arrowhead Elementary School in Glendale, Gorospe spent the past four or five summers working for the Grand Canyon Railway in Williams as a passenger service attendant, and each winter for the Railway's Polar Express.
"She was kind of a tour guide – during the Polar (Express) she was the girl pouring hot cocoa and singing and dancing," Cory said.
The Gorospe family said Cathryn took the job at the Grand Canyon Railway because of her love for the Grand Canyon and the outdoors. She enjoyed spending her down time hiking and visiting with friends. While working in Williams, she lived with several friends she met at the Railway.
"She is a reader and loved coming up with projects for her kids (students)," they said. "She often used her own money to help those kids with projects or extra snacks…that was her character."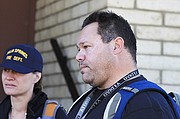 Cory Gorospe speaks to reporters about his missing sister.
Her family said they believe she connected with Malzahn because of her caring nature.
"She's the type of person who gives people second chances, she's a rescuer, she's very trusting," her family said. "She has a great spirit and a great sense of humor. Everyone loves to hang out with her. I believe her Christian spirit led her to want to help people and give everyone a chance to see the good inside people."
Malzahn may have met Cathryn while he worked at a local restaurant in Williams this summer.
Malzahn has spent extensive time in jail for convictions of assault, aggravated assault on a law enforcement officer, criminal damage and drug charges. He is a convicted felon and was rearrested Aug. 20 in Williams and charged with theft of an automobile, being a prohibited possessor of a gun, and possessing a gun during the commission of a felony.
According to police records from his Aug. 20 arrest, Malzahn was reported to be in possession of a stolen vehicle belonging to his sister. His sister reported the vehicle missing following a violent encounter with Malzahn in Tempe.
Malzahn's sister reported she had been with her brother and her children in her Chrysler Town and Country in Tempe. She said Malzahn became anxious and believed that she was going to have him "sniped" by a car next to them.
Malzahn forced one of his sister's children to sit in the front seat and pulled out a black handgun. At that point his sister stopped the vehicle, removed her children, and Malzahn took off with the vehicle.
Malzahn later called his sister and told her the van was at the Canyon Club in Williams with the keys in it.
Williams Police responded to the restaurant and arrested Malzahn as he was exiting. Malzahn was found with a 9mm handgun.
Williams' police officers were aware he is the stepson of the Williams police chief and has an extensive criminal record.
Nixon said he has not spoken to Malzahn in over a year.
"We have distanced ourselves from him for over a year and we have no idea what he's been doing," Nixon said. "Nobody has been around him, nobody has talked to him. We didn't want to have anything to do with him."
Nixon said Malzahn has been in trouble his entire life. He said after graduation he periodically stayed at the Nixon's home in Williams, but never for more than a week.
"We'd try to help him, try to get his life straight, but he never did," Nixon said. "So the last 01 years he has probably spent a total of three weeks around me. He's never going to change, he never would. So we didn't want to have anything to do with him."
Lieutenant Darrell Hixson with WPD is the supervisor in charge of the Aug. 20 incident.
When Gorospe bailed Malzahn out of jail, Oct. 6, her plan was to bond him out, get dinner and travel back to Phoenix with him, according to her roommate.
She reported Gorospe missing saying she had not seen or heard from Gorospe and felt something was wrong because Gorospe had failed to make arrangements for someone to care for her dog.
Police believe Malzahn took the vehicle from Gorospe at some point during his travels after leaving Flagstaff. The couple reportedly went through Williams, Chino Valley, Prescott, Prescott Valley, and Dewey. He then took I-17 south to Phoenix, then on to Tempe, Gold Canyon and on to Clifton, Arizona.
According to police, Malzahn attempted to buy drugs and purchase a gun in Clifton. He was also contacted by the Tucson Police Department Oct. 7 for using Gorospe's credit and debit cards. Malzahn told the officer he had permission to have the cards. The officer seized the items purchased as well as the credit and debit cards impounding them for further investigation.
Cathryn Gorospe was traveling with Charlie Malzahn when she went missing Oct. 6.
Malzahn was located Oct. 9 in Phoenix in Gorospe's vehicle, without Gorospe, and was arrested after fleeing police and crashing the vehicle.
An acquaintance of Malzahn said the vehicle, a 2010 Toyota Rav 4, had sustained damage and was missing end pieces of the rear bumper, had damage to the front quarter panel. The acquaintance also said there was blood on the center console, interior passenger door, sunroof and interior driver panel door. Malzahn also reportedly had cut his right thumb.
Malzahn has refused to talk to police about Gorospe's whereabouts.
Investigators are asking for the public's assistance in locating Gorospe. Police describe Gorospe 5 feet 5 inches tall and 150 pounds, with brown hair and brown eyes. She was last seen wearing a black sweater, bright blue t-shirt, blue jeans and grey Adidas sneakers. Anyone who saw Malzahn, Gorospe or the white Toyota Rav 4 with Green Bay Packers stickers on it, is asked to contact Flagstaff Police Department at (928) 774-1414.
Related Stories
More like this story
SUBMIT FEEDBACK
Click Below to:
This Week's Circulars
To view money-saving ads
For as little as $3.49*