Originally Published: October 14, 2017 2:49 p.m.
Photo Gallery
Lee Williams football vs. Bradshaw Mountain - Oct. 13, 2017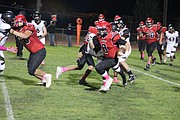 The Lee Williams High School football team dropped a 35-15 loss Friday to Bradshaw Mountain. Vols quarterback AJ Hererra rushed for a touchdown and threw an 80-yard score to Paul Giglio. Photos by Beau Bearden.
KINGMAN – The Lee Williams High School football team had plenty of chances Friday night against Bradshaw Mountain. Unfortunately, the Volunteers couldn't find a way to capitalize and dropped a 35-15 loss to the No. 27-ranked Bears.

"That's something that can't happen this late in the season," said Lee Williams head coach Clint Sasse. "We can't have these missed opportunities, we can't have these dropped balls and things like that. That was a team that we were matched well against and they took advantage of their opportunities and we didn't."
The 24th-ranked Vols (4-4, 1-4 4A Grand Canyon) only trailed 14-7 at halftime, but Bradshaw Mountain (3-5, 3-1) used big plays in the second half to pull away.
Lee Williams was dealt a critical blow with 6:48 remaining in the game when the Bears scored on a fumble recovery to push their lead to 28-7.

"We had called in a trick play and it should have worked," Sasse said. "We missed the pitch and it gets fumbled and taken back to the house. It's different if that guy gets tackled right away. That was a dagger there."
While the Vols answered back with AJ Herrera's 80-yard touchdown strike to Paul Giglio, it wasn't enough to shift the momentum back in their favor. Nevertheless, Sasse was pleased with the team's valiant fight.
"We still played with effort and we played hard all the way through the end of the game," he said. "It's great to see, but missed opportunities."
AJ Herrera led Lee Williams, passing for 181 yards and a touchdown along with a 48-yard rushing score in the first quarter.
Giglio finished with 170 all-purpose yards, while Edmond Ashton caught six passes for 68 yards.
"The offense did well," Sasse said. "We had a couple big drops that hurt us, but other than that we moved the ball really well on offense. We got into a groove that we haven't really seen this season. It was good to see that improvement – moving the ball and getting into the red zone."
The Vols are back in action Friday at 7 p.m. with a non-region contest at 34th-ranked Kofa (2-5, 0-1 6A Southern). Lee Williams then returns home Oct. 27 for its season finale against 30th ranked Mohave (2-6, 1-3).
"This was a tough one to lose," Sasse said. "We were looking to win our last three games, but it's just another bump in the road. We just have to come out and compete. If we win out, we'll finish 6-4. We still have a chance."
More like this story
SUBMIT FEEDBACK
Click Below to:
This Week's Circulars
To view money-saving ads
For as little as $3.49*