'Only the Brave' explores the brotherhood of firefighters who died in the Yarnell Hill Fire

Originally Published: October 19, 2017 6 a.m.
June 30, 2013.
An unassuming day in history for most of the U.S. But for people in Arizona that day in 2013 was one of great loss.
The Yarnell Hill Fire near Yarnell, Arizona overran and killed 19 Arizonan firefighters, members of the Granite Mountain Hotshots.
At 5:36 p.m. MST June 28, 2013, lightning ignited a wildfire on BLM lands near Yarnell. On June 30, strong winds reaching more than 22 mph pushed the fire from 300 acres to over 2,000. A long-term drought affecting the area is said to have contributed to the fire's rapid spread and erratic behavior, as did temperatures of 101 degrees.
By July 1 the fire had grown to over 8,300 acres and prompted the evacuation of the nearby community of Peeples Valley. The fire was completely uncontrolled with more than 400 firefighters on the line. On July 2 the fire was estimated at 8 percent containment and had not grown in the past 24 hours. By the end of the day July 3, the fire was reportedly 45 percent contained and not growing, thus allowing Peeples Valley residents to return to their homes July 4. Four days later, residents of Yarnell were permitted to return. The fire was declared 100 percent contained July 10.
The Yavapai County Sheriff's Office said that 127 buildings in Yarnell and two in Peeples Valley had been destroyed.
A completely uncontrolled 2,000-acre fire that had just burned over 19 experienced Hotshots is what two wildland firefighters from Washington had to walk into July 1. Brys Jung and Korbin McDonald were in their first season of being wildland firefighters.
McDonald said the two were at a holding camp in Colorado when they were told their crew was being sent to Arizona. He text his father to let him know where the crew was going and that they would be out of service while on the drive. McDonald said as soon as there was cell service, everyone's phones in the car started blowing up. Family members and friends were asking them if they were OK and it was McDonald's father that told him the news.
McDonald said he turned on the radio and the news said 19 firefighters had been killed on the fire they were now heading to.
"It just fell silent," McDonald said. "Words can't even describe what I was feeling … To be honest, I was scared shitless."
Jung said he didn't think he really knew all the implications of the news.
"I don't think it really settled in until years later," Jung said.
McDonald said in those moments he looked to his crew leader and the guys on the crew who had more experience. Their crew showed up the day after the Hotshots were burned over, and McDonald said it didn't seem real.
They walked into the station, and it was grim. Somber.
"I was very reverent to the whole situation," Jung said. "And was sensitive to the other firefighters who were mourning."
McDonald said their crew was usually a rowdy one, but during those few days they were in Prescott they all just hit the grindstone and did their jobs.
Both Jung and McDonald said it was strange to be there. People would pay for their groceries, thank them in the streets, buy their dinner. The people in town wanted to express their gratitude, to share their care and solidarity with firefighters.
"People wanted to direct gratitude to those that saved them … protected them," Jung said. "It's understandable, but was definitely a strange feeling."
"Only the Brave"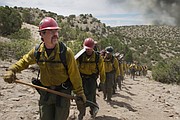 Jung, who went on to complete three seasons with the Flathead Hotshots out of Montana, said he believed the trailer for the upcoming film about the Granite Mountain Hotshots, "Only the Brave," was fairly accurate. Dramatized, but accurate.
The only thing he said that didn't sit right with him was the idea of these men trying to be heroes.
"I really hope it isn't portrayed in the movie that they were trying to get in front of the fire," Jung said. "With that level of firefighting experience, there is a zero percent chance (the Hotshots) would have done that."
Jung said the trailer did accurately portray the brotherhood among fire crews and Hotshots as well as the hard work and training that goes into being a hotshot.
McDonald, who only did one fire season, said he hasn't decided if he's going to go see the movie yet or not.
"If they 'Hollywood' it, I'll be upset," McDonald said.
Director Joe Kosinski said the film is trying to capture the spirit of the Hotshots.
"In an age of superheroes, 'Only the Brave' is a film about real heroes," Kosinski said. "It explores notions of brotherhood, sacrifice, redemption, all set in the world of wildfire – something I haven't seen in the cinema before. It's a story that needs to be told and a world that should be seen on a big screen."
To Kosinksi, the biggest challenge was going through official reports, talking to people who knew the Hotshots, people who were there and then compressing all of those aspects into 15-20 minute segments.
"There was so much that needed to be said," Kosinski said.
Academy Award nominee Josh Brolin, who portrays the crew superintendent Eric Marsh, was a volunteer firefighter in Mescal, Arizona, Tucson and Phoenix in the early to mid-1990s.
"I had a personal reaction to this story," Brolin said. "When I was in my 20s, I fought fires for three years with a volunteer fire department in (Mescal) Arizona. It was something that resonated with me; I liked the idea of the giving of one's self to preserve something for someone else, even in the face of danger."
Echoing similar thoughts to Jung and McDonald, who hope people who view this movie think about firefighters, Brolin said this movie allows people to remember first responders.
"Most people run from danger, Hotshots run toward it – risking everything," country music star Dierks Bentley said.
Bentley raised $500,000 for the families of the Granite Mountain Hotshots back in 2013 with the Country Cares concert. He teamed up with Bon Iver's S. Carey and the film's composer to provide a song for the film titled "Hold the Light."
Granite Mountain Hotshots Memorial State Park has been created. A 2.85-mile path leads from a parking area on Highway 89 up to an observation deck. A trail follows the last steps of the Hotshots down to the Fatality Site where they made their last stand. Encircling the Fatality Site, 19 gabions, one for each Hotshot, are united by chains.
"Watching that trailer … it brought me back to that fire and what was going on," McDonald said. "That car ride, being in the hotel that night and talking to Brys about what we were getting into. When I came back from those memories, the first thing I thought was 'I hope they do it right.'"
"Only the Brave" premieres nationwide Friday.
Studying the Yarnell Hill Fire
Brys Jung said the Yarnell Hill Fire is talked about every year in training, and he said it will be talked about for 50 to 100 years.
He said it is unclear why the Hotshots went in front of a fire because that is something that firefighters don't do. Safety is second to none for firefighters.
"That $5 million mansion in the woods doesn't matter," Jung said. "It's like trying to stop a tornado."
What is known is the crew was in an area they believed was safe. The Fire was to their left as they looked down at the town from their spot. They moved from their location and down into a draw where they couldn't see the fire. The winds picked up and pushed the flames in their direction. Jung said the fire moved faster than they could run, so they had to stop and deploy their fire shelters.
"Fire shelters are a last resort," Jung said. "If you get into a really hairy situation, you deploy this shelter. It protects you from radiant heat, but doesn't protect from direct flame."
Jung said the reason for them moving their position is still unclear.
Interview notes from Kosinski, Brolin and Bentley were provided by the Prescott Daily Courier, sister paper of the Daily Miner.
More like this story
SUBMIT FEEDBACK
Click Below to: