Kingman High School's first production 'Noises Off' opens
Originally Published: October 19, 2017 11:50 a.m.
Photo Gallery
Kingman High School "Noises Off"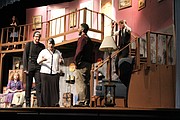 Kingman High School's first production 'Noises Off' opened Thursday evening, continues through Saturday.
It's a play within a play that's also … a play? Either way, Kingman High School's production of "Noises Off" by Michael Frayn is an absolutely must see this weekend.
This roughly hour and a half long play is worth every second. Watching the character development, what it takes to put on a play (all while, well, putting on a play), and Dotty Otley (played by Jesse Rogozinski) forgetting her sardines everywhere while Garry Lejeuene (played by Jefferson Black) has a mental breakdown by Act III, is not only hysterical but also riveting.
Drama teacher Mark Mullins laid out the plot to me before the performance, but the long and short of it is this is a play within a play about a play that's all about sardines and doors.
This three act play starts with the characters all onstage working through their dress rehearsals, showing the audience an albeit rough version of the play within "Noises Off" titled "Nothing On." Act II is a behind the scenes romp of character interaction, devastating one liners, silent fights and, you guessed it, more sardines. The final act is the play as it is being put on in a theater. However, it doesn't exactly go according to plan.
The all high school cast is outstanding. Black and Rogozinksi are fabulous for their characters, and the tension that arises between the two is almost palpable. By the end of the play, their improvisations and zingers are on point. Brodee Wilson, Kaleo Ah Quin, Shylene Robbie and Hannah Heiden are wonderful for their characters, as well as their characters' characters, despite their shenanigans and mishaps. Kat Williams and Joseph Locke Jr. are excellent in their roles as stage managers, and last, but not least, Spencer McCray is a perfect deadpan character.
One of the most exciting parts of this performance is actually during the intermissions. The curtains remain up as the stage transitions from front to back, and then from back to front. It is impressive to see the amount of work these students have put into set construction, which is a full two-story set, with four doors, a window, two sets of stairs and a balcony. In the weeks leading up to this performance, Stage Manager Andrew Stolmeier was worried about the construction of the set, but as of Wednesday's dress rehearsal it looked phenomenal.
Technical director Christian Brown said he was pleased with Wednesday's dress rehearsal, and I can understand why. The entire cast and crew are high school students, and they are pulling off a three act play where one act is essentially improvised. If there were any dropped lines, they weren't noticeable and if blocking was off, it didn't appear to hinder the actors.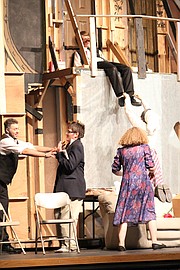 The thing to know about this production going in is: everything is done by high school students. The set, the stage managing, the costumes, audio, lighting, everything. However, that is not a hindrance whatsoever. They have a high level of energy, which has likely gone a long way in helping them get through this last week of rehearsals. These students have done an excellent job preparing for today's opening night performance and the shows through the weekend.
Anyone in Kingman who can take the time, shows are at 7 p.m. in the KHS auditorium Thursday, Friday and Saturday. Tickets are $5.
More like this story
SUBMIT FEEDBACK
Click Below to:
This Week's Circulars
To view money-saving ads
For as little as $3.49*