Prep Volleyball: Lady Tigers get first win over Lady Vols

Originally Published: October 19, 2017 6:16 p.m.
KINGMAN – In her four years on the Kingman Academy High School volleyball team, Aspen Jackson has experienced a number of great wins with her fellow seniors. However, Jackson admitted that the Lady Tigers' 3-1 win (18-25, 25-20, 25-17, 25-23) over Lee Williams ranks near the top of the list.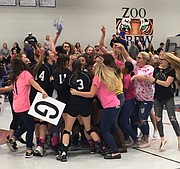 "This is the greatest feeling ever," she said. "This is the loudest I think our gym has ever been. It was not even close to how many people that used to come to these games. It was a great feeling."
The Academy had never beaten the Lady Vols in its previous seven attempts, but that streak ended Wednesday night and it couldn't have come at more perfect time. The 18th-ranked Lady Tigers (12-3, 5-2 2A West) gave Bill McCord a big win in his first year as head coach, but he didn't take any credit.
"They know the game – I tell them what I see and they make the corrections," McCord said. "It's all them. I'm giving them all the credit."
The Academy definitely lived up to McCord's words, especially in the fourth set as the Lady Tigers rallied back from a 9-1 deficit. It appeared the No. 27 ranked Lady Volunteers (6-9, 1-8 4A Grand Canyon) were in the driver's seat to force a deciding fifth set, but that wasn't the case as the Academy notched six straight points to put the score at 10-8. The Lady Tigers weren't done yet though, as they tied the set at 13-13 and forced a Lee Williams timeout.
Both teams continued to trade points down the stretch, but the Academy took a 24-23 lead before finishing off the win.
"This game is all about momentum," said Lady Vols head coach Julia Lasiloo. "They had it and they kept it. That's pretty much what it was."
Jackson led the Lady Tigers with 15 kills, while Isabella Anderson added 11 and Grace Herbine tallied eight kills.
"Grace Herbine has been a beast at the net," McCord said. "I just call her 'The Beast' because she doesn't move a whole lot, but she can block. The blocking was a big part of the game and when we finally actually hitting the ball, we started becoming successful."
Shaunti Short notched a team-high 18 assists, followed by Lynsey Day with eight. Jackson had 14 digs, while Dasani Cave added 12.
More like this story
SUBMIT FEEDBACK
Click Below to: