Editorial | The word that makes us uncomfortable
Originally Published: October 22, 2017 6 a.m.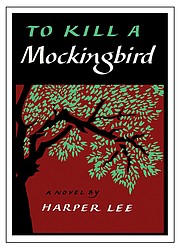 The Biloxi School District in Mississippi removed Harper Lee's "To Kill a Mockingbird" off its eighth-grade reading list this month because, "There were complaints about it. There is some language in the book that makes people uncomfortable, and we can teach the same lesson with other books," according to a report in the Biloxi Sun Herald.
A good guess what language makes people uncomfortable is the N-word, which appears almost 50 times in the relatively short novel. The same offensive word appears more than 200 times in the much longer "Huckleberry Finn," another book that has often been banned from schools.
To be fair, "To Kill a Mockingbird" is not banned in the Biloxi schools, it is still available in the library. It was just removed from the reading list.
The book, written in 1960, was first banned in 1966. In addition to the N-word, the other major objection is that the plot is centered on a rape.
The American Library Association says "To Kill a Mockingbird" was the 21st most-challenged book in the United States for the first decade of this century.
Few doubt the book is an American classic, having won a Pulitzer Prize for its author, and in its impact on American society. Many white Americans saw the unfairness of segregation through the pages of this book.
Yes, it makes us uncomfortable. That's not a bad thing. It would be much worse if we read the book and were not uncomfortable.
We cannot hide our history and pretend the ugly parts did not happen. Learning from the dark days in our nation's history is how we move forward to a better society that we all seek. Feeling uncomfortable is a great sign, showing that our generations have learned there are words that should not be used in public.
But we can't ban them from our past. They exist on the pages of "To Kill a Mockingbird," and "Huckleberry Finn," and there they should remain. To fully understand why that word is unacceptable today, we have to know how it was used in the past.
This is a great novel for children to get that introduction, as they see the story in 1930s Alabama develop through the eyes of Scout, a 6-year-old girl getting her first introduction of race relations.
Seeing the story through the eyes of a child who hasn't been taught to hate those who are different is what makes this story resonate.
Our children will soon learn that people today aren't all that much different than they were 80 years ago. There are still people who use words they shouldn't and hate others they don't even know just because they are different (immigrants, Muslims, etc.).
No matter how hard we shelter them, they will discover our lack of growth in this area. A book such as "To Kill a Mockingbird" or "Huckleberry Finn" can be a starting point to talking to them about these difficult subjects and helping them navigate them when they face them in their own lives.
These books should not be banned, or removed from reading lists. They are books to be treasured and read, often.
This editorial first appeared Oct. 19 in The Daily Courier of Prescott, a sister paper of the Kingman Daily Miner.
More like this story
SUBMIT FEEDBACK
Click Below to:
This Week's Circulars
To view money-saving ads
For as little as $3.49*