Prep Football: Tigers pull away in 48-6 win over Bulldogs

Originally Published: September 2, 2017 4:06 p.m.
Photo Gallery
Kingman Academy football vs. Kingman, Sept. 1, 2017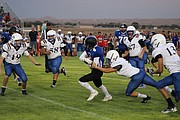 Kingman Academy defeated Kingman 48-6 to improve to 1-1, and the Bulldogs fell to 1-2.
KINGMAN – The Kingman Academy High School football team shook off a slow start, scored 24 points in the final two-and-a-half minutes of the first half, and left Kingman High in the rearview mirror en route to a 48-6 win Friday night at KHS.
The end of the 2:25 onslaught for the Tigers came when Tyler Wheeler intercepted Kingman's Darrell Mitchell at the Tiger 45 and returned it 55 yards for his second touchdown in the first half. He scored on a 9-yard run to begin the onslaught.
"I saw the look in the quarterback's eyes, and I could see he wasn't thinking of running it," Wheeler said. "I saw where he had someone and just cheated over there."
Once Wheeler secured the ball, it was nothing but green pastures in front of him.
"When I first caught it I kind of froze thinking 'did I just?'" he said. "Then I saw no one in front of me and just took off. It was the best feeling in the world."
Kingman (1-2) took an early lead after less than two minutes played in the opening quarter, capitalizing on Cody Turner's pick of Tiger QB Kekoa Makaiwi-Stroup. Turner took the interception back 40 yards and set the Bulldogs up on the Tiger 15. Two plays later, Mitchell ran it in from the 2-yard-line and gave the Bulldogs its only lead of the game, 6-0.
Makaiwi-Stroup completed 11-of-18 passes for 204 yards and four TDs. He threw two interceptions and has four on the season to go with six TD passes. Kingman Academy football coach Dan Stroup is OK with how the offense is functioning, scoring 68 points in two games.
"Koa has made three bad decisions in two games," the coach said. "He has made marked improvement with his arm strength and decision making."
One of Makaiwi-Stroup's favorite targets is freshman Gabe Imus, who had three catches for 41 yards and two TDs in the first half.
"I get spread outside, hit a move, and I see Koa and he sees me," Imus said. "It's just a matter of reps and how we do it. It's what is working – the chemistry between us."
Hayven Potter caught three passes for 83 yards and a TD for the Academy (1-1), and Nate Carter had two catches for 48 yards and a score.
Joey Martin led the Tigers on the ground with 66 yards. He had a long of 26 yards, a TD and a 2-point conversion.
"Academy is very athletic," said KHS football coach Cam Wierson after the loss. "They played hard."
Kingman will try to snap a two-game skid when the Bulldogs host Page (1-2) Friday. The Bulldogs finished with 170 yards in total offense, led by Mitchell's 62 rushing and 68 passing.
"We have a true family culture that is alive," Wierson said. "We're going to love each other and stick together through thick and thin."
Kingman Academy will try to take the City Championship from Lee Williams (2-0) at 7 p.m. Friday.
"It's another crosstown rival," coach Stroup said, "but we'll have to treat them as a faceless opponent. We can't afford to get caught up in the noise."
More like this story
SUBMIT FEEDBACK
Click Below to:
This Week's Circulars
To view money-saving ads
For as little as $3.49*