Originally Published: September 2, 2017 4:02 p.m.
KINGMAN – The Lee Williams football team didn't waste its opportunities Friday night against Dysart. The Vols scored twice in a span of 47 seconds and held on in the second half to defeat the Demons, 22-10.
Photo Gallery
Lee Williams football vs. Dysart - September 1, 2017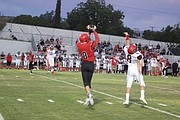 The Lee Williams football team improved to 2-0 Friday night with a 22-10 victory over Dysart. AJ Herrera threw two touchdown passes to Hunter Sturgill and also rushed for a score. Photos by Beau Bearden.
"The guys did a great job of capitalizing," said Lee Williams head coach Clint Sasse. "We've done a good job of that all season. When something bad happens to the other team, we capitalize. That's been a huge thing for us in both games this year. I'm glad we could get those swings when we do."
The momentum clearly shifted in favor of the Vols in the final minute of the first half.
Lee Williams' defense forced a punt and the offense made sure it wasn't wasted. Vols quarterback AJ Herrera found Hunter Sturgill wide open for a 31-yard touchdown and then Modesto Rodriguez caught a pass for the two-point conversion.
The Vols weren't done yet though. On the ensuing kickoff, Lee Williams forced a Dysart fumble and Herrera scrambled for a touchdown as time expired in the first half.
"AJ was doing his thing, doing what AJ does and he made a play," Sasse said. "He marched it into the end zone and scored."
That was all the Vols put up on the scoreboard, but it was enough to get them the win. Herrera finished with 125 yards through the air and added 28 yards on the ground. Sturgill, meanwhile, led the team with 81 yards receiving and also scored the first touchdown of the game on a 50-yard scamper.
"The first catch was pretty crazy," Sturgill said. "They tagged it to me, so I knew I was going to get it. I knew what I needed to do, so I did what I knew how to do."
Sasse praised Sturgill for his contributions that shifted the game in Lee Williams' favor. However, the junior didn't just step in this year without any varsity experience.
"Hunter Sturgill was a guy last year we threw into the fire as a sophomore," Sasse said. "Along with a lot of these juniors that are playing right now. They struggled a little bit, but it's those guys that are coming along and making our program right now."
The Vols did, however, lose one of their juniors with 3:21 remaining in the second quarter. Quarterback Enzo Marino walked off the field with help and didn't play the rest of the game.
"We don't know yet on Marino," he said. "We'll have to check and see when he goes to the physical therapist (today). … Right now, we'll play it by ear and go from there."
The injury obviously puts a slight damper on the win, but Sasse still took a moment to talk about the victory.
"This is a huge win for our program," he said. "… This team beat us 56-0 last year and we came back and beat them 22-10. It wasn't in the prettiest way, but we got it done. We'll always take the win."
More like this story
SUBMIT FEEDBACK
Click Below to:
This Week's Circulars
To view money-saving ads
For as little as $3.49*