Honoring Labor Day: Local community leaders reminisce about their first jobs
By
Aaron Ricca
|
ARicca2
Originally Published: September 4, 2017 6 a.m.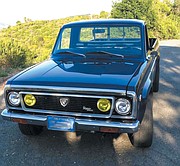 Everyone has to start somewhere.
In honor of Labor Day, The Daily Miner reached out to local community leaders, business owners and artists to learn about their first jobs.

Each were asked what and where their first REAL job (where they got a paycheck, had to pay taxes, had a somewhat regular schedule and could get fired if they screwed up) was? What was their wage? Did they work to save money for school, play around, learn work ethic or a bit of each? What was something they learned about people and how did the job shape their path to where they are now?
This is how they got started:
Monica Gates, Mayor of Kingman
"I started my first job in 1977 at the age of 14 as a carhop at an A&W Root Beer restaurant in Fort Lauderdale, Florida. The pay was 87 cents an hour, plus tips. The day I was hired, I was promoted to lead carhop when a radio DJ interrupted the music and broke the news that Elvis had died.
"The lead carhop took off her money belt and announced 'I must go to Memphis.' She drove off in her Ford Pinto and was never heard from again.
"The money I saved that year definitely helped pay for tuition and college expenses.
"It was a super fun job and a great experience. I learned the value of a dollar and how to make a seriously delicious root beer float – all thanks to Elvis Presley."
Gregg Arnold, Local Artist and Actor
"I was a stripper. I started at 22 and did until I was 36. I'm 49 now. I was working at a Jack LaLanne gym in New Jersey and talking to a guy when a lady walked in and handed me a card for All-American Male Revue. I figured, 'I could probably do this, how do I get involved?' I auditioned and it was a hit.
"Let's say I had a 45-minute gig. Generally, I'd make $100 to $125, plus tips. There was a schedule and a lot of responsibility. You have to eat right, train right and rehearse your routine. You had to take care of all those things.
"It was a terrific way to make chunks of money at a time. I started working for different exotic dancing companies. One of them called me up at some weird hour. A limo picked us up and took us to The Richard Bey Show. I was on, like, 26 episodes. It was a decadent, strange period of my life, but it was fun. It was an exciting adventure, and I wouldn't trade it for anything. That's what life is about.
"It gave me a lot of good insight to people. What I learned is not to take life seriously. Look at it from the funny side, even if it's a dark humor kind of thing. Enjoy it. Enjoy every day."
Jean Bishop, Mohave County Supervisor for District 4
"Kingman Police Chief Carrol Brown gave me my first real job as a police dispatcher in 1977. I worked my way up to communications specialist while putting myself through the first Mohave Community College "police academy." I earned my certification from the State of Arizona as a peace officer in 1986 and volunteered as such until 1988 when the Mohave County Sheriff's Office hired me as a deputy sheriff. I worked in many capacities including remote patrol, 911 Communications Supervisor, polygraph examiner, background investigator and patrol sergeant.
"I don't remember my beginning hourly wage, but I suspect it was the minimum wage supplemented by a government program called the Comprehensive Employment and Training Act. 
"At the time, I was a single mom with two young daughters working during the day and taking night classes at Mohave Community College working toward an Associate Degree in Applied Science in Administration of Justice.
"I've learned to not only trust people, but to also verify! The best lessons I've learned from my law enforcement experience is how to remain calm, know when to be silent and that smiling is usually the best reaction in all situations."
Bob DeVries, Kingman Police Chief
"My first career job was when I started as a police officer (1980) with the City of Holland, Michigan. I worked straight midnight shifts every Wednesday, Thursday, Friday and Saturday nights from 10 p.m. to 8 a.m. for 3 1/2 years. I believe the pay was $7.50 an hour (I think minimum wage was $3.25 an hour).
"While in college, I worked four part-time jobs to pay the bills and my education. I worked part-time as a police cadet for the city, part-time as an EMT with Mercy Ambulance (now AMR Medical), helped out part-time at a gas station a friend owned, and on the weekends I scrubbed the body shop and garage floor of the local Chevy dealership.
"I was fortunate to have several mentors throughout my career that helped guide me to where I am now. As for working with people – I am a firm believer that no one person and no one position or job is more important than the other. Everyone deserves to be treated with respect."
Susan Chan, KAOL District Administrator
"My first job was the summer after my freshman year in high school (1974).  I worked at Stuckey's on Route 66 just past the airport. Because Interstate 40 was not connected from Kingman to Seligman, Route 66 was a very busy highway.  It was a gas station, a store and a food counter. I worked the food counter making hamburgers, milk shakes and other "fast food"-type treats.
"I made an hourly wage, but I can't remember how much – or more precisely – how little it was. I do remember gas was about 50 cents a gallon!
"I worked to save for school, play around and learn work ethic. I learned that people appreciate being respected, and if you give respect, you're likely to get it back. That has shaped my work throughout my lifetime."
Diana Caldon, Owner of Diana's Cellar Door Wine Bar
"My first real paying job was at Alphy's Restaurant, which was owned by the Alpha Beta supermarket chain in Fullerton, California. I started working there when I was 16 and a sophomore in high school. When I first got hired as a hostess, I remember my pay being 30 cents more than minimum wage after my 90 days probation. At that time, minimum wage was $2.30 an hour."
"I worked my way from hostess, to server, to night manager, so I can say customer service has always been my forte. When I was promoted to night manager, I was in my senior year (of high school) and worked graveyard shift Monday - Friday. I would get off at work at 6 a.m., sleep for an hour and then head off to school.
"I worked hard to save up enough money to purchase my first vehicle, and I got it! A Mazda Rotary pick-up truck, and I drove it all over Southern California from the ocean to the mountains.
"That job groomed me on the importance of offering quality service. I still hold to those work ethics today and I'm thankful for that.
"My motto is: Work hard so you can play harder."
More like this story
SUBMIT FEEDBACK
Click Below to:
This Week's Circulars
To view money-saving ads
For as little as $3.49*