Spurs, wranglers, and cowboy boots: Not your average pageant
Originally Published: September 4, 2017 6 a.m.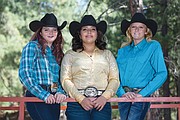 KINGMAN – A social gathering for the Andy Devine Days rodeo queen candidates will be held at 1 p.m. Saturday at Grand Events Center, 500 W. Beale St., with admission of $10.
Three teenage girls are vying for rodeo queen based on a points system for how well they perform in horsemanship skills, public speaking and private interviews on their knowledge of rodeos, equine science and current events.
The horsemanship competition is at 8 a.m. Saturday at Mohave County Fairgrounds.
Queen candidates will be judged by a panel from out of town, mostly from California, said Tiffany Leo, director of the rodeo queen pageant and former queen in 1991.
"It was a great experience," Leo said of being rodeo queen. "It was a great opportunity and a great way to meet a lot of new people and new friends. Even when the girls are running in the pageant, you make friends, some of them lifetime friends."
Leo said her mother (Susie Olson) and sister (Lisa Olson-Morris) were also Andy Devine Days rodeo queens, and her daughter (Adison Leo) is reigning teen queen.
Organizing the pageant takes some work, including lining up sponsors and prizes and preparing the girls for competition.
"I just enjoy working with the girls," Leo said. "For some girls, it's a life-changing experience."
The rodeo is part of the 33rd annual Andy Devine Days celebration of Kingman's western history scheduled for Sept. 23-24.
Rodeo queen candidates are:
Adrienne Sikel: Age 17, she attends Kingman Academy of Learning and is an honor roll student with plans to graduate in May and attend college. Her ambition is to earn a college degree and start her own working cattle ranch.
She's an active member of 4-H, and her hobbies are barrel racing, camping and trail riding. She also plays soccer.
Why she wants to be rodeo queen: "To show others my love for rodeo and hopefully to inspire them. To educate the public on good animal stewardship."
Dalace Beiswenger: Age 17, she attends River Valley High in Mohave Valley, where she participates in Student Council and National Honors Society. She also competes in horse shows and Gymkhana and 4-H.
Her ambition is to study natural horsemanship in college and go to the Los Angeles Police Department Academy to become an officer in the mounted unit. Aside from riding horses, she enjoys painting, drawing and sculpting.
Why she wants to be rodeo queen: "It has always been a dream of mine to inspire and teach young kids about the sport of rodeo and the western way of life."
Jamie Curry: Age 16, she attends Kingman High School where she is FFA vice president and has an FFA Greenhand degree. She enjoys riding horses and working with children and animals.
Her ambition is to become a respitory therapist and build a steady life for her and her future family.
Why she wants to be rodeo queen: "When I went to the rodeo as a child I looked to the royalty as role models and I have wanted to be one ever since."
Rodeo teen queen candidates are:
Angela Bernal: Age 13, she attends Arizona Virtual Academy where she maintains at least a 3.0 grade point average and runs cross country and track. She has won about 50 ribbons at horse shows and Gymkhana.
She enjoys the lake, crafts and singing, and plans to go to college and get a master's degree.
Why she wants to be rodeo teen queen: "To inspire others to follow their dreams and stay true to their passion."
Codey Humble: Age 14, she attends Lee Williams High School and has been on the honor roll for three years. She participates in Kingman Junior Rodeo Association and Kingsmen Gymkhana.
She enjoys barrel racing, pole bending and training horses.
Her ambition is to earn a degree in equine chiropractic.
Why she wants to be rodeo teen queen: "To be a positive role model, and teach children the sport of rodeo and with hard work and dedication you can achieve any goals you set your mind to."
Haley Brown: Age 14, she attends River Valley High School in Mohave Valley and plays in the school band.
She also is in Girls Scouts and enjoys horse riding and training.
Her ambition is to "do stuff I love" and help people.
Why she wants to be rodeo teen queen: "Because I want to bring the rodeo way of life to the younger generation."
More like this story
SUBMIT FEEDBACK
Click Below to:
This Week's Circulars
To view money-saving ads
For as little as $3.49*