Millennials appear to be missing from the religious landscape
The religious landscape is being shaped by millennials, and it is showing a decline
Originally Published: September 8, 2017 6 a.m.
The religious landscape has changed. People are no longer identifying with religious affiliations, Christianity is declining and younger adults, or millennials, are shaping that landscape.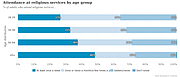 According to the Pew Research Center, there are key findings about the changing religious landscape. The first being that Christians are declining, not just as a share of the U.S. population, but also in total number. In the U.S. in 2015, 70.6 percent of U.S. adults identified with Christian groups – Protestants, Catholics, Mormons and others – which means there are roughly 173 million Christian adults in the U.S., down from 178 million in 2007. The largest declines in those groups have been the mainline Protestant tradition and among Catholics.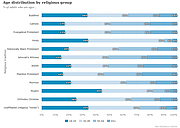 The decline of Christians in the U.S. has corresponded with the continued rise in the share of Americans with no religious affiliation, or religious "nones." People who self-identify as atheists or agnostics, about 7 percent of all U.S. adults, as well as those who say their religion is "nothing in particular," now account for a combined 22.8 percent of U.S. adults – up from 16.1 percent in 2007.
This decline and rise of "religious nones" isn't necessarily a lack of spiritual beliefs. University of Nevada-Las Vegas sociology professor Michael Borer said millennials tend to construct quasi-DIY religious and spiritual worldviews.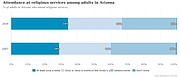 "In many ways, millennials share a desire to 'discover themselves' that was promoted and practiced by baby boomers," Borer said. "Even if they do show up or attend services at places of worship, their own belief systems tend to go well beyond those preached within those sacred walls. And, again, even when they don't attend or choose to call themselves 'religious nones,' they still desire meaning and order even if that meaning and order involves watching Game of Thrones or scrolling through Instagram."
Borer said millennials tend to be skeptical of social institutions – various areas of social life that are structured by organizational and behavior rules of conduct – whether religious or otherwise. As the first "digital natives," they gather their own information to construct worldviews on their own.
"Much of their lives are spent online, and, in some ways dictated by it," Borer said. "Religious institutions have to compete with that."
Churches are, after all, businesses.
"They sell beliefs, products, to both devout and would-be believers, consumers," Borer said.
Borer said churches are continually trying to grow with and within the "spiritual marketplace" – the market for and marketing of religious and spiritual beliefs and practices. It's an umbrella term that includes everything from yoga classes and crystal shops to vacation bible camps and church steeples. 
"Some have tried to adapt while others haven't and have seen declines," Borer said. "Megachurches – often independent and non-denominational – tend to be attractive to younger Christians because they've adopted an entertainment-based model that includes, and often relies on, everything from flashy sermons with pyrotechnics to 'real-time' Twitter call-and-response work."
One church that has been adapting is Central on Fourth Street. Darryl Speers, the location pastor for Kingman, said he watches the trends and he adapts the way its message is spread.
"It's vital to be relevant," Speers said. "During those ages (18-26) they are really searching. You have to grab their attention. Make them think, 'What's this?' What worked 20 years ago, may not work today."
He cited Romans 1:20, "To the Jews, I became like a Jew, to win the Jews. To those under the Law I became one under the Law (though I myself am not under the Law), to win those under the Law."
"The message doesn't need to change, but the package does," Speers said. "If we want to attract Millennials, we have to become Millennials. What matters is telling them who Jesus is."
Speers said he doesn't believe the desire to experience spirituality has dropped.
"It is their journey," Speers said. "We don't stop loving them. God created them, so who are we to say they can't be here?"
Speers said he thinks the age gap has always been there. Those between 18 and 26 are the ones who naturally leave to question, to learn, to explore, Speers said.
"I think that since there is such a high percentage of Millennials, it's just more noticeable," Speers said. "They have more movement in other things."
Bill Wilkins, the assistant pastor at Calvary Chapel, said he doesn't think the problem of low church attendance is unique to this generation either.
"The culture war for the hearts and minds of our youth has been raging for decades," Wilkins said. "That war is between the conservative Judeo-Christian worldview as taught by the bible versus a liberal secular humanistic worldview … In the case of the Christian church, it is my personal opinion that in the wide sense, we have been losing the war."
Wilkins said the issue of church attendance is a multifaceted issue and it is the coming of age that brings all of these issues into focus and shows if the "war" is won or lost.
"In defense of the current generation, I think many Millennials can be seen in the churches of Kingman, as well as populating the bible colleges of the west," Wilkins said. "Society has a tendency to find all the flaws we see in everyone and project them onto the current generation. None of us are perfect. We are always being slowly transformed to better reflect the character of God, Romans 12:2."
More like this story
SUBMIT FEEDBACK
Click Below to: