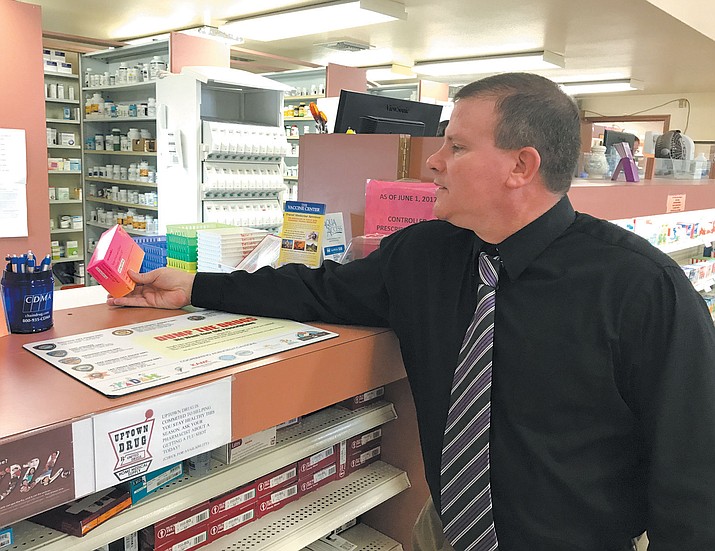 Photo by Aaron Ricca.

Originally Published: September 8, 2017 5:57 a.m.
KINGMAN – Numerous contraceptives are available in the Kingman area. Getting them depends on a combination of geography, income and most importantly, education.
At least nine forms of birth control are available over-the-counter or by prescription at local pharmacies and the Mohave County Department of Public Health. They include condoms, Depo-Provera (the birth control shot), diaphragm, foam suppositories, Implanon (birth control implant), Intrauterine Device (IUD), birth control pills, patches and vaginal rings. The options for sterilization by vasectomy or tubal litigation are available through a family practitioner and Kingman Regional Medical Center.
The most efficient, but not always realistic, form of contraception – abstinence is also an option.
The selections are out there for teens and adults, rich or poor, and for various reasons – mostly preventing first and reoccurring pregnancies. The pill acts not only as birth control, but can regulate hormone levels and reduce heavy menstrual periods, moderate acne and help with pre- and post-menopausal symptoms.

Mohave County isn't exactly known for its predominantly wealthy and affluent baby-having demographic. According to the U.S. Census Bureau, as of 2015, nearly 20 percent of Mohave County residents live under the poverty level, which by 2017 Federal poverty guidelines is an annual income of $24,600 for a family of four, or $12,060 for a single person. That's where the Mohave County Department of Public Health comes in.

The MCDPH Family Planning clinics offer family planning counseling and education. Through their services, various types of birth control methods are offered including condoms, Depo-Provera, diaphragms, IUDs and birth control pills. The clinic only provides services to uninsured or underinsured individuals living at the poverty line or below. Services are covered through Title V Federal funding distributed via the Maternal and Child Health Services Block Grant. The county receives funds since it's considered a rural, medically underserved area.

"We're in that category because we don't have enough doctors to serve this population," said Lynne Valentine, MCDPH Nursing Services Manager.
They don't take Arizona Health Care Cost Containment System (AHCCCS) or private insurance. Most of the services are free and depending on income, costs for contraceptives are determined on a sliding-scale. Out-of-pocket costs are kept to a minimum.
In July, there were a combined 94 client visits to the Kingman, Lake Havasu and Bullhead City clinics. Valentine noted an average of 85 client visits a month for the first half of the calendar year. Although their client base includes individuals of all ages, young adults make up a large portion of that base.
"We see teenagers all the time," said Sharon Noake, Certified Nurse Midwife, who travels to the three clinics on a weekly basis. "We can see them without parental consent. We're that safety net."
Should teens arrive with parents, they can choose whether or not to allow the parents in the examination room.
"If the patient doesn't want their parent present, that is their right to privacy and confidentiality," Valentine said.
Costs and Access
All costs are covered by Title V funding.
Condoms are free. Depo-Provera prices range $20-$25 per dose. IUD's are free, if the patient qualifies, through the Access and Resources in Contraceptive Health (ARCH) Patient Assistance Program. Birth control pills cost $2 to $4 per-monthly cycle.
Valentine said birth control pills and the Depo-Provera shots are the two most popular contraceptives.
Getting contraceptives is a relatively easy process.
Anyone can walk into the MCDPH clinic adjacent to the Mohave County Administration building at 700 W. Beale St. Males (and often females) can grab a few condoms and be on their way. Female contraception takes a little more time.
Clients must make an appointment with one of the nurses (one at each site, plus Noake). The appointments take an average of half an hour and clients have vitals taken, are asked about medical history to include high blood pressure, heart problems, migraines, smoking, drug and alcohol use and women must take a pregnancy test – all of which are factors in what contraceptives are prescribed.
Clients are also asked about past sexual history, including number of partners and sexually transmitted diseases.
"If we see a girl with multiple partners, we have to wonder what else might be going on," Noake said. "Client counseling and education are essential components of the service."
Clients are asked about family history regarding cervical, breast and testicular cancers. MCDPH also provides Pap smears, breast exams, testing and treatment for STDs and HIV and pregnancy tests. Clients can be referred to outside services for mammograms.
Nurses go over possible birth control side effects with the patient, who then signs a consent form, and they're out the door.
These services are designed to provide a safety net for those without insurance or are unable to afford family planning services, said Valentine.
The Paying End
Uptown Drug's three locations dole out a hearty supply of contraceptives. They have everything MCDPH has, plus diaphragms, foam suppositories, Implanon, IUDs, patches and vaginal rings.
With the exception of condoms (which are sold OTC), all are prescribed by a physician. Depo-Provera, IUD's and Implanon are prescribed by a physician and sent to their practice for injection or implantation. Most contraceptives are covered by private insurance or AHCCCS with various co-payments depending on the type of contraceptive and insurance.
"Almost all are 100 percent covered by insurance," said Uptown Drug owner and registered pharmacist Chris Proffit.
Company policy is for a prescriptions to be filled in no more than 20 minutes. The only thing that might stutter a fill is long lines or conflicting medications such as antibiotics and birth control pills.
"We'll check for possible interactions that might limit effectiveness," Proffit said. "We then notify the patient and recommend using a different contraceptive or contacting their physician and getting a different prescription."
He's aware of pharmacists who've refused to fill prescriptions based on ethical or religious reasons, but knows of none at his stores.

"We will provide any contraceptives," Proffit said.
Plan B, commonly referred to as the morning-after pill, is considered a touchy birth control method by some. MCDPH and Uptown Drug provide over-the-counter Plan-B. Uptown Drug requires ID and the customer be a least 17 years of age. Insurance does not cover Plan B and the out of pocket cost averages about $40 a dose. MCDPH requires the client be registered for their services before Plan B is provided.
Contrary to what some religious organizations might think, Plan B is not an abortifacient – a drug that terminates a pregnancy. That drug is Mifepristone, the abortion pill, and can only be provided by an approved abortion facility such as Planned Parenthood.

Short Term vs. Long Term Costs
In 2015, it cost the State of Arizona an average of $23,826 a year and $65 a day to house an inmate, according to Arizona Indicators, a data-collecting project managed by Arizona State University's Morrison Institute for Public Policy.
In Mohave County, the average monthly SNAP benefit for July 2017 was $221 per household (19,116 households on SNAP), $115 per-person (36,542 persons on SNAP), for a total issuance of more than $4.2 million.
Theoretically speaking, a few dollars and cents of a Medicare paycheck deduction could save millions of dollars in welfare, social services and incarceration costs down the line.
Education
Like with sex-ed, knowledge is power when it comes to contraception. MCDPH is tucked into a tiny corner of town that many wouldn't think of a place to get birth control. That could always change.
"We're here," Noake said. "This is not a new service. This has been around for a long time."
Paying or not, access to birth control is both a right and often, a necessity. Proffit said many of his prescriptions are covered by Medicare and Medicaid, and he can see how it affects the community.
"I think Medicaid paying is a good thing," he said. "It's very effective in helping younger people deal with accessing contraceptives."
More like this story