Prep Volleyball: Lady Vols defeat Lady Bulldogs

Originally Published: September 8, 2017 5:58 a.m.
KINGMAN – The Lee Williams High School volleyball team allowed Kingman High to lead on one occasion Thursday, but then the Lady Volunteers put their foot on the gas and never looked back in a 3-0 win, (25-12, 25-4, 25-5).
Photo Gallery
Lee Williams volleyball at Kingman - September 7, 2017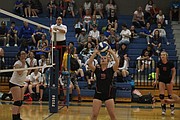 The Lee Williams High School volleyball team swept Kingman High Thursday night 3-0, (25-12, 25-4, 25-5). The Lady Vols improve to 4-0 with the win, while the Lady Bulldogs fall to 0-3. Photos by Beau Bearden.
"We did come out a little slow," said Lee Williams' Tori Logan. "We just took our time warming up I guess. But as soon as we get rolling, it's hard to stop us."
The Lady Vols (4-0) definitely proved they are difficult to beat, as they won their 12th straight set this season. Lee Williams' lone set loss of 2017 came in a 3-1 season-opening victory against Lake Havasu.
Since then the Lady Vols have taken care of business, but head coach Julia Lasiloo knows the competition will be tougher Saturday at the Mary J Godley Tournament in Lake Havasu.
"We've lost the very first one and that was kind of getting our nerves out," Lasiloo said. "They've done great, but now is the true test. We have the Lake Havasu tournament this weekend with some great teams. We took second in that last year. We have more depth this year, so I'm excited for that."
The Lady Bulldogs (0-3) will also be playing in the tournament and head coach Molly Creagh knows it'll be a good opportunity for team building and figuring out how to communicate better after the issue arose in Thursday's loss.
"We fought really hard and our transitioning on the court was near flawless," Creagh said. "They moved on the court very well. It's just a matter of communication – learning to communicate more with each other instead of being the hero on the court."
There were a few occasions in the match that Kingman did put together a rally and prove it could battle with Lee Williams. While it didn't result in any set wins, Creagh knows there is potential for success.
"When they were working together and making sure they got three hits in, we gave Lee a run," she said. "We just have to keep doing that. We have to keep working with each other – using our three hits instead of just trying to get it right back over and rushing the play."
The Lady Bulldogs jumped out to an early 1-0 advantage in the opening set, but the Lady Vols quickly responded and took a 11-3 lead to force a Kingman timeout.
Lee Williams had little issue from there in allowing just 18 more total points and tallying the sweep.
At the end of the night though, the Lady Bulldogs and Lady Vols know they are friendly rivals once the final whistle blows.
"It's always exciting because we know each other," Logan said. "We're enemies on the court. But as soon as we get off, we love each other."
More like this story
SUBMIT FEEDBACK
Click Below to:
This Week's Circulars
To view money-saving ads
For as little as $3.49*