Kingman man arrested after $20,000 worth of drugs found in home
Originally Published: September 11, 2017 2:42 p.m.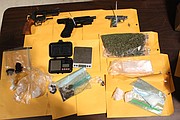 KINGMAN – More than 270 grams of various drugs were found during a raid by the Mohave Area General Narcotics Enforcement Team Monday morning.
Mohave County Sheriff's Office Tactical Operations Unit executed a search warrant on behalf of M.A.G.N.E.T at a home in the 1300 block of Suffock Avenue, ending a month-long joint investigation between M.A.G.N.E.T, Mohave County Sheriff's Office Detective Division and the Bureau of Alcohol, Tobacco, Firearms and Explosives.

According to sheriff's spokeswoman Trish Carter, the tactical unit had lights flashing and sirens blaring and began giving verbal announcements over a public address system. The unit entered the home and found the suspect, Bruce Edward Christopher, 66, of Kingman, taking cover behind his bed and allegedly attempting to chamber a round into his handgun, which malfunctioned and unable to fire at the entry team. A flash-bang grenade was used to disorient Christopher and he was immediately arrested.
During a search of the home, MAGNET detectives found more than 98 grams of methamphetamine, 40 grams of black tar heroin, 32 grams of powder brown heroin, 23 grams of powder cocaine, 4.5 grams of crack cocaine, 74 grams of marijuana and two additional handguns. The street value for the drugs was more than $20,000.
MAGNET learned Christopher was allegedly cooking the powder cocaine into crack cocaine inside the house. He has an extensive criminal history and is a prohibited possessor of any firearms, one of which reportedly had the serial number ground off.
Christopher was booked into the Mohave County jail on the following felony charges: Possession of methamphetamine for sale, possession of methamphetamine, possession of narcotic drugs for sale, manufacturing narcotic drugs, possession of narcotic drugs, three counts of possessing a weapon by a prohibited possessor, possessing a defaced firearm, and three counts of aggravated assault with a firearm. More charges are pending.
Information provided by Mohave County Sheriff's Office.
More like this story
SUBMIT FEEDBACK
Click Below to: