Hotel Beale: The historical downtown building has an uncertain future
Originally Published: September 15, 2017 6 a.m.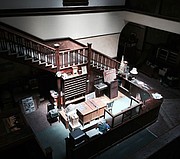 Hotel Beale is steeped in history, from the early 1900s when it was owned by Andy Devine's father to movie stars like Clark Gable and Carol Lombard who spent the night there.
It was once the premier hotel in Kingman, catering to affluent railroad passengers and later to travelers along Route 66.
But it's the future of the hotel that's in question.
Can it be restored to the elegance and charm that made it a centerpiece of downtown Kingman, or should it be razed and replaced with something that will generate business and revenue in an area that's experiencing somewhat of a renaissance?
"We promote historic downtown and advertise using the historic features of our buildings and overall atmosphere, and for years have attempted to hook tourists to stop and see our history," said Bill Shilling, grant administrator for the City of Kingman.
"If we promote a historic downtown, then we should probably work harder to preserve the historic assets we have and stop tearing them down or altering them."
Tough times
Hotel Beale, at 325 E. Andy Devine Ave. across from the old Santa Fe train depot, has been sitting vacant and abandoned for nearly 20 years, having fallen on tough economic times.
The hotel was built in 1900 and purchased in 1906 by Tom Devine, father of actor Andy Devine, who moved to Kingman at an early age and was raised here.
It's got potential to be an architectural centerpiece in Kingman, along with the 100-year-old Mohave County courthouse and jail and the historic Masonic and Elks lodges.
St. Michael, a 100-year-old hotel in Prescott, commands weekday rates of $100 a night and $150 on weekends. It's got a bistro that brings a busy breakfast and lunch crowd, and a collection of boutique shops and galleries.
Shilling thinks Hotel Beale could be in the same class.
"Ideally, from a tourism perspective, this could be rehabilitated back into a hotel or bed and breakfast to take advantage of the historic Hotel Beale name and historic presence," he said.
If rehabilitation doesn't work, perhaps the front façade could be saved to look like the original hotel with new, modern construction.
Unwilling to sell
Shilling said he's heard rumors of offers made on the hotel, but they were rejected by the owner, Henderson Investments, which is controlled by the eldest son of Tedi Ronchetti.
According to the Mohave County Assessor's Office, the current assessed full cash value of the hotel is $49,939. One offer was made several years ago by the owner of the Central Commercial Building.
The family twice applied for and received grants to rehabilitate the hotel, and both times they backed out by not providing the required matching funds, Shilling said.
"In 2015, during a revitalization meeting, the owners indicated they will not put another nickel into the property," he said.
Keith Eaton, assistant chief of Kingman Fire Department and City of Kingman building official, said the building has been condemned, and the city is working with the owners to save the building.
"I would like to move forward with doing something, whether it's the worst-case scenario, demolition," he said. "Right now it's affecting development and the look of downtown. We'd like to work with the family, who's not really interested in doing much with it."
Engineers who specialize in historic buildings have walked through the hotel and have given the city an idea of what needs to be done, all the way from the structure itself, asbestos removal, fire sprinkler system, broken windows and openings that have allowed pigeon infestation.
The hotel has a beautiful lobby, staircase and mahogany woodwork, and it's a shame the public can't see it, Eaton said.
"At this point, we're working on coming up with options. But until the family allows that, we don't have too many options," he said.
Werner Fleischmann, a Swiss real estate investor who bought the Brunswick Hotel in 2012, has found out that some properties in Kingman are nothing but a money pit.
He said the poor appearance of Hotel Beale hinders his own efforts to reopen the Brunswick and bring it back to its Old West glory.
The hotel holds immense historic value for Kingman, and is listed on the National Register of Historic Properties. It would be surely be missed by Kingman residents who see something special in the hotel.
Kingman has about 80 "historically significant" properties either listed or eligible to be listed in the National Register, Shilling said.
Downtown has made great strides recently to preserve and protect properties, while others have been demolished to make way for business expansion or development.
"If we don't make a better effort to preserve some of the historic buildings that remain, we will lose the historic characteristic of the neighborhood," Shilling said. "People want to see what life was like here 100 years, ago, so let's make a better effort to show off what we have."
More like this story
SUBMIT FEEDBACK
Click Below to: