Time for a Cheeseburger: Sept. 18 is National Cheeseburger Day
Life is too short to miss out on the beautiful things, like a double cheeseburger on National Cheeseburger Day
Originally Published: September 18, 2017 6 a.m.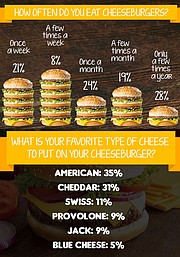 Jimmy Buffett tried to amend his carnivorous habits in "Cheeseburger in Paradise."
"But at night I'd have these wonderful dreams, some kind of sensuous treat. Not zucchini, fettuccini or bulgur wheat, but a big warm bun and a huge hunk of meat," Buffett sings.
Don't be ashamed. Embrace the indulgence. After all, it's National Cheeseburger Day.
Oh yes, there is such a thing, for those who appreciate a fast-food fix.
New survey data collected by Offers.com shows that about one-fourth of respondents grab a burger at least once a month, and 21 percent eat one every week.
Mike Pangerl, riding his Slingshot through Kingman from Princeton, Minnesota, stopped at Mr. D'z Route 66 Diner Friday for a burger, this one topped with an egg, hash browns and bacon.
"Occasionally, it's okay," he said. "I try to cut down on beef. Once in a while it's okay.
According to the U.S. Department of Agriculture, the average cheeseburger contains 303 calories and 30 grams of carbohydrates, along with 41 milligrams of cholesterol.
Pangerl said he eats a cheeseburger once every two weeks, and he's willing to shell out $6 to $8 for a good one. He likes ketchup and sometimes mayonnaise on his burger, and maybe lettuce and tomato, but hold the pickles.
He spends about $12 a month on cheeseburgers, which is pretty much in line with what Offers.com found in its survey.
Other survey findings:
A majority (62 percent) of consumers spend $1 to $20 a month on cheeseburgers. What's surprising is that while 17 percent don't spend any money on cheeseburgers, 5 percent admitted to spending over $80 a month on the fast-food favorite.
Americans chose condiments such as ketchup, mustard and mayonnaise to top the list at 20 percent, while bacon, pickles and lettuce tied for second with 18 percent each. Tomatoes are right behind at 17 percent, and avocados came in at 9 percent.
American cheese is the No. 1 choice for a cheeseburger at 35 percent, followed closely by cheddar (31 percent), then Swiss (11 percent) and Provolone and Jack (tied at 9 percent). Only 5 percent of consumers preferred blue cheese.
"It's often said that nothing is more American than a hamburger," said Sarah Hollenbeck, marketing associate for Offers.com, a web site that offers coupons, discounts and deals. "However, the Germans get credit for developing this worldwide favorite. The cheeseburger, on the other hand, was created right here in America."
It's rumored that Lionel Sternberger was working at his father's restaurant, The Rite Spot, as a teenager in California in the 1920s when he "experimentally dropped a slab of American cheese on a sizzling hamburger."
The creation was a hit and fast-food restaurants across the nation were never the same. McDonald's stopped counting in 1994 after advertising more than 99 billion sold.
"I love cheeseburgers," said Ellen, who was visiting from Michigan and eating tacos at Jack in the Box. "No onions. I like grilled mushrooms, lettuce, tomato and pickle."
She and her husband spend about $15 on cheeseburgers out, and they barbecue burgers about twice a month during the summer, she said.
Many restaurants and fast-food chains are offering discounts and free fries or drink on National Cheeseburger Day. Specials found on Offers.com include a classic cheeseburger and medium-size onion rings for $2.99 at Sonic, two for $6 Whopper mix and match at Burger King, and two for $5 mix and match favorites at McDonald's.
The web site notes that coupons and discounts may not be honored at all locations. Also, some restaurants may place restrictions on the deals such as a limited number of people or during specific hours.
Nobody knows when or how the day originated, but there are more than 1,500 national-something days in the calendar year.
Pangerl said he'd never heard of National Cheeseburger Day, but he was glad to find Mr. D'z. He was recommended to take Route 66 because of all the cool places to stop for lunch.
"I just drove by and saw it," he said. "I thought about Denny's, and then I saw this place."
More like this story
SUBMIT FEEDBACK
Click Below to: