Letter | Marjorie Gillis: Gosar Arbitrarily Blocks Constituents on Facebook
Originally Published: September 19, 2017 5:55 a.m.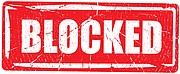 As a constituent of AZ CD4, our Rep. Paul Gosar is willfully – some would say gleefully – blocking voters from taking place in Facebook townhalls.
He claims that we have access to him through conventional means, but every letter I have sent to his office is met with the exact same canned response – regardless if it is about selling our Arizona public lands to private interests, or his position with the "Freedom Caucus."
I would tend to agree with him that Facebook can be an unruly place to debate ones opinion, but these are literally the only townhalls he holds, and he refuses to answer any inquiries regarding why we are blocked.
Claims of "foul language" and "threats" can not be proven, and I've seen plenty of vile posts go unaddressed if it is in support of Gosar.
As a blocked constituent, and after speaking with others that have been blocked, I can only reach the conclusion that Gosar is blocking access arbitrarily and for dissenting opinions only.
As an advocate for transparency in our government I'm curious: is his ideology so fragile that is doesn't stand up to scrutiny?
Blocking constituents without warning, explanation, or accountability, an act that denies all blocked constituents: (1) equal access to official Congressional District Facebook town halls; (2) Constitutional right to free speech; (3) Constitutional right to assemble in public spaces and protest; (4) Constitutional right to due process; and (5) Constitutional right to petition the government for a redress of grievances.
More like this story
SUBMIT FEEDBACK
Click Below to:
This Week's Circulars
To view money-saving ads
For as little as $3.49*