Prep Roundup: Lady Vols conclude home schedule with a win over Lake Havasu
Originally Published: September 20, 2017 10:41 p.m.
KINGMAN – The Lee Williams girls golf team picked up another win Tuesday, shooting a 185 to beat Lake Havasu (210) at Cerbat Cliffs Golf Course.
Photo Gallery
Lee Williams, Kingman girls golf - September 19, 2017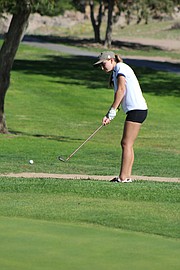 The Lee Williams and Kingman high school girls golf teams played their final home match of the season Tuesday at Cerbat Cliffs Golf Course. Lady Vol Paige Lucero shot a 3-over-par 39 to take first place, while Lady Bulldog Gisele Jablonski shot a 60 to take 10th place. Photos by Beau Bearden.
"It's good momentum for them – they count on winning these matches," said Lady Vols head coach Haley Bradley. "Unfortunately, we haven't played anyone who has given us a run for our money yet. We have three more to go and we play them all in Lake Havasu. That might give us a little better playing ground for some better competition."
Paige Lucero led the Lady Volunteers with a 3-over-par 39 to take first place, followed by Audra Coffman in second (44), Sarah White in fourth (50) and Kaylee Moore and Kadence Sterling in a tie for fifth (52).
Kingman High's Gisele Jablonski shot a 60 to take 10th.
"Audra had her best round – she played great," Bradley said. "It was little turnaround from our last home match, when they didn't come out shooting very well. With us losing three seniors this year, Audra went out with a bang."
The Lady Vols are back in action Tuesday against Lake Havasu and Kingman High at Lake Havasu Golf Club. The three schools play again Oct. 3 and Oct. 12 at the same location.
"We are in a pretty good position," Bradley said. "We're second in our section right now. We need those three matches to hopefully push us into the first spot, so we'll go to state as a team."
Boys golf
At Valle Vista Golf Course, the Lee Williams boys golf team continued its season Tuesday as it hosted Prescott, Mohave and Mohave Accelerated.
The Volunteers shot a 184 to take third, while MALC was second (167) and Prescott was first (166).
Cole Morton led Lee Williams with a 2-over-par 38 for second place, while Brandon Carver was fifth (41), Wyatt Talk tied for 14th (52), Justin Talk was 16th (53) and Brycen Rodriguez was 18th.
Volleyball
At Mohave High, the Lee Williams volleyball team dropped a heartbreaking 3-2 loss to the Lady T-birds Tuesday, (20-25, 25-20, 25-18, 24-26, 17-15).
The Lady Volunteers (5-3, 0-3 4A Grand Canyon Region) held a four-point advantage in the final set, but Mohave (3-2, 1-1) rallied back to deal Lee Williams its third region loss.
The setback would be the Lady Vols' fourth straight loss, but they picked up a 3-0 win Monday over Kingman High.
More like this story
SUBMIT FEEDBACK
Click Below to:
This Week's Circulars
To view money-saving ads
For as little as $3.49*