Things to do: Square dance class Thursday
Originally Published: September 20, 2017 5:55 a.m.
Dance class
KINGMAN – Beginners square dance class is starting Thursday at St. John's United Methodist Church, 1730 Kino Ave.
Bring your friends and learn to dance with caller and teacher Mike Wilder. Classes are from 7-8:30 p.m.
For more information, call Tom at 928-757-5222 or Nancy at 928-530-8919.
Sunday Concert
KINGMAN – Ramon Torres Productions is presenting a free GMO (Great Music Offerings) concert at 11 a.m. Sunday at Metcalfe Park, corner of Grandview Avenue and Beale Street.
Featured bands, in order appearance, are Los Piso Mojado Boys, Trisch Cobb; Tracie Michelle, Elona Lorraine and Company, Stephanie Boop, The Riptides from Lake Havasu City and Lonesome Dick, who played the park this summer in the Sounds of Kingman concert series.
It's festival seating, so bring your lawn chairs and blankets and get to the park early.
For more information, call 928-715-4301 or email chapoflex@outlook.com.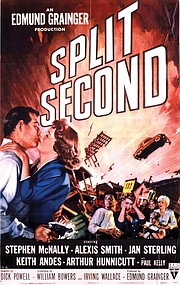 Movie night
KINGMAN – Monthly movie night at Kathryn Heidenreich Adult Center will feature "Split Second," starring Stephen McNally, Alexis Smith and Jan Sterling, at 6 p.m. Friday.
Two escaped killers take hostages and hide in a Nevada mining ghost town without knowing that an atom bomb is schedule to be tested there the next morning.
Steve Conn, recently retired from Mohave County Superior Court, gives a historical commentary and behind-the-scenes look before the movie.
Friends and family are welcome at the adult center, 1775 Airway Ave. A $2 donation is requested to benefit the center's programs.
More like this story
SUBMIT FEEDBACK
Click Below to: