State Rep. Cobb is on board with two interchanges
City leaders chastised to come up with a plan to take to the Arizona State Legislature
Originally Published: September 24, 2017 6 a.m.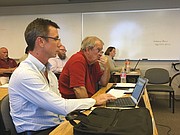 City leaders need to stop quarreling and put together a presentation on the need for an interchange at Rattlesnake Wash to take to the Legislature in November, Rep. Regina Cobb said Friday during a special meeting of City Council.
The work session brought all the major players to the table at Kingman Police Department to discuss proposals to build I-40 interchanges at Rattlesnake Wash and Kingman Crossing.
Brian Turney, chief executive officer of Kingman Regional Medical Center, was there with a representative of shopping center developer Vestar to push KRMC's proposal to purchase city-owned land south of Interstate 40 and build an interchange at Kingman Crossing estimated at $30 million.
Bill Lenhart, a Las Vegas investor who owns about 1,000 acres around Rattlesnake Wash, wants the city to pursue the interchange known as Rancho Santa Fe Parkway, which could receive up to $20 million in funding from the Arizona Department of Transportation.
"If we don't have a presentation for ADOT in November, our chances of getting an audience from the state is minimal at best and mixed in with 1,000 other bills, so time is of the essence" Cobb told the Council.
Cobb said she still thinks the city should build both interchanges simultaneously, as had been proposed when the Council approved a half-cent sales tax in August to fund capital improvement projects.
"If you just do one, it's going to be 20 years before you get the other one," she said.
Mayor Monica Gates said the vote for the half-cent sales tax was for capital improvement, not the interchanges.
But Councilman Travis Lingenfelter said the Council agreed that the interchanges are at the top of the priority list for capital improvements.
Gates favors KRMC's proposal to buy the Kingman Crossing land and build the interchange, citing the people's overwhelming 70 percent vote in November to sell the city land.
Lingenfelter asked City Attorney Carl Cooper to review the ballot measure.
Cooper said the vote only authorizes the sale, just as the Kingman Airport Authority has authority to sell land, but that doesn't mean it has to sell the land. There could be land leases and other options, he said.
The Council agreed to put the item on the next agenda to direct staff to get an appraisal on the land. Councilman Stuart Yocum said he'd like to have an appraisal of what the land would be worth with an interchange in place, as he'd be reluctant to sell without the interchange.
"We have several million dollars of projects we defer year after year because we don't have the funds to pay for them," Lingenfelter said. "Do we want to sell the land now or make it shovel-ready and sell it for much more money? The city has no role in the development business, but we are in the economic development business."
John Timko, former finance director for Mohave County and consultant for Lenhart, said both traffic interchanges have been discussed in Kingman for many years, and both have merit.
Kingman Crossing would improve public safety and accessibility by connecting one side of the city with other, and Rancho Santa Fe would have an incredible economic impact for industrial and manufacturing development, connecting I-40 to Kingman Airport and Industrial Park.
"We are in a unique point in history in Kingman to take advantage of both opportunities," Timko said. "To not do that would be derelict of duty to promote economic growth."
People come to Kingman to retire because of the low cost of living, and people on disability come here to live out their life on a government check, Timko added. That's no help for KRMC, which depends on government-subsidized health care for 80 percent of its patients.
The only way to combat that is to bring 3,000 to 4,000 jobs with private insurance to Kingman, Timko said.
"If you don't take care of jobs, the city will continue to be a magnet for retirees," he said. "I recommend the city get behind ways to make both of these happen. I think competition to see which one gets built first is counterproductive to economic development for Kingman."
With $11 billion in Arizona health care funding hanging on the Graham-Cassidy bill, it stands to reason why KRMC is interested in seeing the interchange built at Kingman Crossing, Turney said.
"As an institution, we're looking at the tea leaf. We'd rather thrive than survive," he said. "I shared the concept, but we need some framework of where we'll negotiate."
Turney said he's not interested in putting $30 million into the Kingman Crossing interchange without assurances that he won't be in competition for commercial development around a government-funded interchange a couple miles away.
Cobb said KRMC would be strong partners for Kingman, but so would the Kingman and Mohave Manufacturing Association, or KAMMA. It's true that KRMC employs a lot of workers, but so does KAMMA with all its member companies, she noted.
"On behalf of our association and all of the people who would be well served by the development of the Rancho Santa Fe Parkway, KAMMA offers the strongest possible endorsement for the decision to proceed with the initiative to develop and construct the interchange," KAMMA President John Hansen said in a letter to the Council.
More like this story
SUBMIT FEEDBACK
Click Below to: