Andy Devine Days Rodeo - A weekend of fun
Photos by AARON RICCA aricca@kdminer.com
Originally Published: September 26, 2017 5:59 a.m.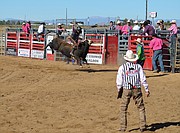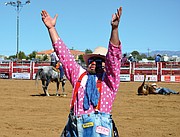 KINGMAN – The wind died down enough for the Mohave County Fairgrounds to not to be completely swirled in dust for the second half of the 33rd Annual Andy Devine Days Rodeo Sunday.

Local community organization The Kingsmen helped make the event a blast for thousands of rodeo fans and competitors on both Saturday night and Sunday afternoon.
During opening ceremonies, rodeo announcer Bob Edmonds addressed the crowd and scoffed at the increasing number of NFL players who have been taking a knee during the national anthem. He firmly stated that at the rodeo, everybody stands – to which the crowd erupted in cheer.
After a prayer, country singer Shari Rowe, who played at the 100 Club VIP party the night before, belted out "The Star-Spangled Banner" loud enough to be practically heard across town. Some local veterans were honored for their service. Dalace Beiswenger was crowned 2018 Rodeo Queen and Angela Bernal 2018 Teen Queen. After the pomp and circumstance, the roping, racing and riding began.
Pictured going clockwise beginning from above with rodeo and teen queen contestants parading the nation's colors and other flags through the rodeo grounds. Professional rodeo clown Nate Reed gave the audience plenty of laughs with his jokes, stunts and other antics. Bull riding could easily be one of the most heart-racing, ground-pounding sports in the world. Kids ages 4 – 7 had a chance to show their early rodeo skills during the Muttin' Bustin' event. The children cling to the fleece of a wooly sheep and try to hang on for at least six seconds. Some made it, others didn't.
Nearly $24,000 in prize payoffs were awarded. See results in the Scoreboard on page 8, and find more photos in the gallery at www.kdminer.com.
More like this story
SUBMIT FEEDBACK
Click Below to: