Fourth Street monument helps preserve Kingman's mining history
By
Aaron Ricca
|
ARicca2
Originally Published: September 26, 2017 5:58 a.m.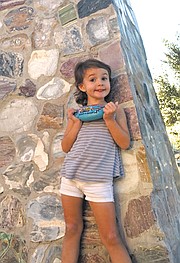 KINGMAN – Months of teamwork were finally recognized Saturday.
As part of the Andy Devine Days festivities, the Miners Mineral Monument next to the Railroad Depot was sealed and a small replica of a miners cart with a small American flag placed on top as a group of about 50 people gathered to hear speeches and watch a piece of Kingman's history come to fruition.

Kingman's Historical Preservation Commission had been trying to figure out how to pay tribute to Kingman's mining history and replace a monument that once stood near the same location for the first half of the 20th century. Thanks to the husband and wife team of C. and Nannette Russell, the project took form as the rock enthusiasts and their friends gathered tons of various rocks and ore from throughout the county. C cut and polished the stones and cemented them onto the monument which, unlike its predecessor made completely of stone, is hollow and held together by a metal frame placed atop a solid concrete foundation.
"A train comes by every 10 minutes," Russell said. "There's a lot of shaking going on and we need a solid foundation."
At least six trains went by in both directions, and the noise drowned out speeches by Mayor Monica Gates, HPC Liaison Bill Shilling and longtime Kingman resident and Arizona State Mine Inspector Joe Hart, who spoke of his history of working at Mineral Park, a once huge contributor to the local economy.
"The best thing it ever did for Kingman was bring jobs," he said. "Working at those mines helped me put my two daughters through college."
Shilling, who did much of the research on the previous monument and designed the granite plaque attached to the new one, described what went into the two time capsules that were placed inside to be opened in 2067.
Along with pictures of all those involved in the project, there were letters written by local elementary students from various schools, city reports and documents, Kingman fire and police department uniform patches, a calendar, fidget spinner, eclipse sunglasses, two collector T-shirts, a railroad spike, lists of the Billboard Top 40 songs for that week, top-grossing movies, top-selling vehicles and cellphones and a copy of the Kingman Daily Miner – to name a few of the items. 
"There are some good things going in there for future generations to let them know what was going on," Shilling said.
Nick Bowers, co-chairman of the Andy Devine Days Festival, and his 3-year-old daughter, Harper, left a memoir of a current fad – a painted "Kindness Rock" memorializing Andy Devine Days. Bowers also left a letter to Harper in one of the capsules.
"Hello my beautiful little girl," part of it reads. "Well, I suppose you aren't little anymore. You will be 53 on the day this is opened. And for me, I will be 82. I hope to be here with you so we can open this time capsule together. If not, I want you to know that there is nothing in this world more important to me than you."

Bowers will also have another tie to the monument. The concrete foundation will be fitted with more stones, some of which will be from the former Bells Motel, which was located on Andy Devine Avenue and demolished in October 2016.
Bower's grandparents owned the motel at one point and his mother grew up there.
Dan Messersmith used to take the Russells on Jeep expeditions to collect rocks and gave a lengthy, but informative speech about some of the stones that were and will continue to be added to the monument. He, like many others, was glad to see another piece of Kingman's history resurface.
"This is a magnificent addition to downtown," he said.
More like this story
SUBMIT FEEDBACK
Click Below to: