A Vigil for Orphan Pets Without a Home
Deuce, like millions of others, wants a forever home

Originally Published: September 28, 2017 6 a.m.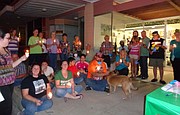 Deuce currently resides at the Western Arizona Humane Society, and like millions of other animals around the country, he just wants to go home.
Approximately 6.5 million companion animals enter animal shelters throughout the U.S. annually, according to the American Society for the Prevention of Cruelty to Animals. For those people locally living in the world of rescuing animals, Mohave County is plagued with an overpopulation of them.
That's one of the reasons local organization For the Luv of Paws is asking everyone to join it at "Remember Me Thursday," a candle-lighting ceremony at 6:30 p.m. today at the Paws-itively Charming Thrift Shoppe & Pet Boutique, 204 N. Fourth St.
"Remember Me Thursday is to shine a light on the fact that there are millions of animals whose lives are put down every year in this country," said For the Luv of Paws organizer Cherie DaLynn. "There are animals who have never had a home."
Western Arizona Animal Shelter
WAHS, where Duece lives at 950 Buchanan St., has a full house as usual.
"We're the only intake center for all of Mohave County with the exception Lake Havasu City and Bullhead City within those city limits," said WAHS Kingman operations manager Lisa Snyder. "We try really hard not to have to euthanize any of the animals brought here."
Deuce is a 5-year-old pit mix who has a bounce in his step. He loves to play and is mild mannered. Deuce has been at WAHS since June.
"He's our poster boy at adoption events," Snyder said. "He's been to a lot of the events."
WAHS staff member Cheirlisa Clark spent some of her time Tuesday playing with Deuce. There are some bittersweet aspects to her job.
"It's just so sad for somebody to come in and give up a dog," Clark said. "I love working here. I get to play with the dogs and make sure they go to good homes."
Remember Me Thursday, National
It's the fifth year, and fourth in Kingman, for Remember Me Thursday, a global outreach that wants to spread life-saving awareness for companion animals.
"Millions of beautiful, adoptable pets will lose their lives in 2017," said President and CEO of Helen Woodward Animal Center Mike Arms. "We all come from different countries, cultures, and backgrounds, but together we can raise our voices and share one life-saving message and literally save millions of pets on this one day.
HWAC, in Rancho Santa Fe, California, was established in 1972 and adopted out more than 3,000 cats and dogs in 2015. Arms is the creator of the Remember Me Thursday event.
"My heart breaks for those beautiful people working in animal welfare who are forced to take lives of the pets they love," Arms wrote on the event's website. "I believe lighting a candle for the orphan pets will be a way for people to let the world know how much they love them."
Remember Me Thursday, Kingman
Cynthia Huth, who began volunteering at For the Luv of Paws about five years ago, is scheduled to give the opening address at tonight's event on the corner of Fourth and Beale streets.
"She helps out whenever she can," DaLynn said. "She does our website, makes sure our public records are on there, and volunteers at the shop."
Another long-time volunteer, Bonnie Daniels, gets the honor this year of lighting the first candle. Daniels helps with the cats at Petco and also works at the thrift store.
"She's a busy lady for someone who is retired," DaLynn said. "This is just a way to say thank you for volunteering. It's a little way to let them know we value them."
The candle-lighting night is one day a year when all animals needing to be adopted are thought about. Deuce is at WAHS, hoping someone will come by and take him home.
More like this story
SUBMIT FEEDBACK
Click Below to:
This Week's Circulars
To view money-saving ads
For as little as $3.49*