Local pizza joint wins big award
Originally Published: April 1, 2018 5:55 a.m.
KINGMAN – Dough, tomato sauce, cheese, and pepperoni, sausage, onions, pineapple and yes, even anchovies are just some of the things that people think of when they think of pizza. But what about prosciutto, arugula, 'Nduja (salami), raspberry drizzle and derby cheese? These were some of the ingredients that Terry Thomson, owner of Rickety Cricket Brewing, used for his award-winning pizza.
Thomson competed at the 2018 Pizza Expo in Las Vegas along with two other employees, Gavin Rader and Levia Davis. All three competitors competed with pizza chefs from the country and from the world.
Thomson received first place in the Southwest region under the non-traditional pizza category and placed second in the world. He competed with other chefs from Hawaii, California, Arizona, New Mexico, Texas, Nevada and Utah.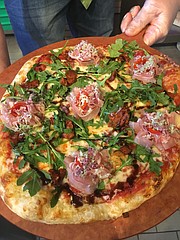 Rader placed second under the traditional pizza division for the Southwest and third place in the world. Rader wasn't originally supposed to compete in the expo, but filled in last minute for another employee. He's only only making pizza for nine months.
"Once I started making my pizza, I was comfortable because I've been doing this every day working here," Rader said. "All I did was go up and make pizza."
Rader made a simple pepperoni pizza for the competition using cup and char pepperoni. This type of pepperoni "cups" up during the baking process to keep all the flavor inside.

Davis competed in the pan pizza division and placed in 14th in the world. She competed alongside many east coast chefs with many being of Italian descendants, Thomson said.
"It was my first time and I went in pretty nervous," Davis said. "But it was fun."
The three pizzas each competitor made will be on a new pizza menu at Rickety Cricket Brewing, 312 E. Beale St., for locals to try.
More like this story
SUBMIT FEEDBACK
Click Below to: