Prep Track: Lady Vols win Kingman Multi with 10 1st-place finishes, Vols take 2nd

Originally Published: April 5, 2018 8:32 a.m.
KINGMAN – Kingman High's Makayla Baca was in familiar territory Wednesday during the Kingman Multi Track Meet at KHS. It proved helpful as the senior easily shattered her previous personal record in the shot put with a throw of 29-feet, 3-inches on her first attempt to finish in second place.
Photo Gallery
Kingman Multi Track Meet - April 4, 2018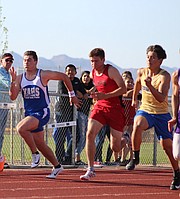 The Kingman High School track and field team hosted Lee Williams, Kingman Academy and a number of other schools Wednesday at KHS. Photos by Beau Bearden.
"I was pretty happy," Baca said. "It makes it easier because you practice here every day. Having a feel for your own ring definitely makes it easier."
Baca is close to qualifying for state in the shot put and she knows her performance Wednesday will help her get closer to accomplishing that goal.
Lee Williams' Sadie Snay also set a new personal record in the shot put with a throw of 32-feet, 3 inches to win the event – her fourth first-place finish this season.
"I've been really consistent this year in throwing," Snay said. "I've been throwing 31's pretty consistently. I just have to break that and hopefully get to state."
While Snay is happy about her consistency, the senior talked about getting aggravated during her quest for improvement.
"Sometimes at practice I'll throw over and I'll say, 'OK, I'll do it at the next meet.' Then it doesn't happen, but I guess it's good to be consistent," she said.
Snay isn't backing down from the challenge though, as she has a distance she wants to reach.
"I want to get a 34 by the end of the season," Snay said. "We'll see."
The Lady Vols tallied nine more first-place finishes including Darleen Bland in the 100 meters (13.28), Trysta Rucker in the 100 hurdles (16.48), Snay in the discus (95-2), Sienna Cobanovich in the high jump (4-9), and Sadie Serrano in the long jump (14-4) and triple jump (32-7).
Lee Williams also won the 4x100, 4x400 and 4x800 relays on its way to easily winning the meet with 231.5 points over Lake Havasu (199). The Lady Bulldogs were fifth (29) and the Kingman Academy girls were seventh.
Lake Havasu won the meet on the boys side with 205 points, followed by Lee Williams in second (189), Kingman in fourth (50) and Kingman Academy in sixth.
Sam Skankey tallied two-first place finishes for the Tigers – running a 4:47.39 in the 1,600 and a 10:40.51 in the 3,200.
"It helps when people cheering me on during the final stretch," Skankey said. "When we're at Havasu or any away meet, it's difficult to get that drive down the last stretch."
Lee Williams' Kameron Toms, Enzo Marino, Ethan Knudtson and Christion Martinez also benefited from a favorable home crowd. The group ran a 44.37 to win the 4x100 relay, narrowly beating Lake Havasu at 44.46.
Martinez nearly had Lake Havasu's final runner catch him, but he held on for first place.
"I was just thinking about what my coach tells me, 'Keep up my knees and drive,'" Martinez said.
The Vols tallied six more first-place finishes, including Drew Cardiff winning the high jump at 5-11. While his personal best is 6-2, he just couldn't find his groove Wednesday.
"I get up there, but my form is not the greatest," Cardiff said. "It's just more experience. I'm only a sophomore and it's going to take a lot more time to get up to where I want. My goal is 6-6 this year."
The other first-place finishers for the Vols included: Kael Juelfs in the shot put (47-1 1/2) and Marino in the 110 hurdles (15.44) and 300 hurdles (40.65). The Vols also won the 4x400 and 4x800 relays.
The Bulldogs had a couple of second-place finishers, including Christian Cleaver in the 400 (54.79) and Elijah Howery in the 100 (11.08) and the long jump (19-1).
Lee Williams, Kingman and Kingman Academy are back in action Wednesday at the Lee Williams Qualifier.
More like this story
SUBMIT FEEDBACK
Click Below to:
This Week's Circulars
To view money-saving ads
For as little as $3.49*