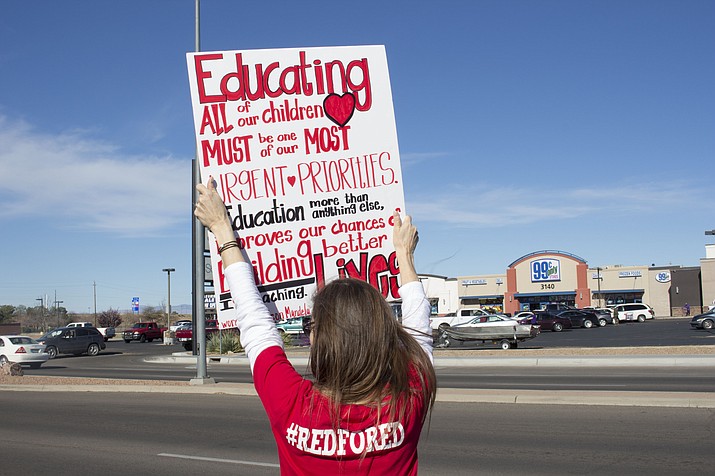 Originally Published: April 8, 2018 5:57 a.m.
KINGMAN – New data provided by Expect More Arizona shows that the median elementary teacher pay went up 4.7 percent from 2016 to 2017 in Arizona. The increase now puts the state's elementary school teacher pay from being 50th in the nation to 49th.
Expect More Arizona is a non-profit and nonpartisan education advocacy organization that is working toward ensuring every child receives the education they deserve.
Arizona has now moved ahead of Oklahoma, but is still behind its neighboring states. The data was analyzed and adjusted for the cost of living. California ranks 5th ($69,039), New Mexico 19th ($59,587), Nevada 28th ($56,714), Utah 29th ($54,701), and Colorado 45th ($48,277).
In 2016 the national median for teacher pay was $55,800, and Arizona's median was $42,474. In 2017, the national median increased 2.7 percent and brought up the average to $57,160 and Arizona compared at $44,490.
"While we have a long way to go to close the gap to the national median, we should celebrate every increase that moves us toward our goal," said Christine Thompson, CEO of Expect More Arizona.
Arizona Education Progress Meter provides a visual for what the people of Arizona want to see education to look like, including having teacher pay to be on par with the national median.
"Pay is not the only thing near the bottom," Thompson said.
The progress meter has goals for certain fields in education such as high school graduation rate, attainment, post high school enrollment and third-grade reading.
Schools dedicate money to teacher pay, and lose other academic support such as counselors or specialists, and that puts more responsibility on the teacher, Thompson said.
"Teacher pay is the goal, but we need to appropriately fund education in order to educate," Thompson said.