Food isn't just food in Mexico, it's a culture, an experience, and a moment with family

Originally Published: April 9, 2018 6 a.m.
When people hear the phrase "South of the border," food is one of the things that come to mind. But yet there is more to Mexican food than just tacos and enchiladas. There's mole, menudo, tamales and the list can go on and on.
There is a culture significance and a long history that comes with some of these foods.
Aurelio Puga, owner of El Portillo, 2535 Hualapai Mountain Road, spoke with the Daily Miner about what it takes to prepare such food and the different flavors and ingredients it takes so make these Mexican specialties.
Most of these foods are rich in flavor and spice and can take quite some time to prepare.
Menudo
This stew consists of cow tripe, hominy, red chili, oregano and onions but sometimes people like to add cilantro or avocado.
Cooking the meat is a long process because it takes about 5 to 6 hours for the meat to cook until tender Puga said.
"The chili is the thing that gives it (menudo) color," Puga said.
Puga adds red chili peppers to give his menudo a kick of spice and flavor. In some areas this stew is served with corn or flour tortillas, corn chips or a toasted bolillo (baguette) with butter.

Menudo is a type of stew that is eaten during the colder months because of its warmth and it's usually made for the holiday season or during family gatherings.
"We do this as a family," Puga said. "One brings their traditions from over there (Mexico) to over here."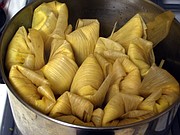 Tamales
In the book, "Taco USA: How Mexican food conquered America" by Gustavo Arellano, he talks about how different Mexican dishes made it to the United States. One of the foods he talks about a lot is tamales.
"They're nutritious. They can get carried, distributed, and eaten easily – the ultimate movable feast," Arellano wrote.
The base of the tamale is the dough or masa. To prepare it, one will need instant cornmeal, lard and some of the broth from the meat that will be stuffed into the tamales, Puga said. The consistency of the dough has to be just right for it to be spreadable on the corn husks.
"It takes a lot of work, and it's really heavy work," Puga said.
There's many foods you can stuff into a tamale. You can add pork, cheese, beans and even fruit.
"I make them with beef, but in December I also make chicken and pork tamales," Puga said.
All of these ingredients are then wrapped in a dry corn husk to maintain the ingredients inside.
"They shimmered with the dabs of lard needed to make a tamale moist and more than mere cornmeal and shredded pork," Arellano wrote.
Tamales are normally made in Mexico during the holiday season. Moms, grandmas, and the entire family gets together to makes dozens of tamales to be shared around with other family members or friends.
"Mexican food is a way of life, which isn't a surprise, of course," Arellano wrote.
Mole
The concept of mole is a sauce made out of chocolate, chili pasilla, which is darker in color and has a rich chili flavor, and dry-red chili pepper, usually served with chicken. The more traditional mole is mole poblano.
"So it won't be too sweet, I add in some dry red chili peppers," Puga said.
It takes a lot to prepare the mole sauce, he said. The sauce also contains cornstarch and sesame seeds to give it a bit of texture.
According to Culture Trip, a company that inspires people to explore the world's culture, the preparation of many moles are known to have 30-plus ingredients.
Two Mexican states that are known for mole are Puebla and Oaxaca. Mole is the general term for the different types of mole sauces that are in the state of Mexico.
Tequila
There's gold, silver, aged and other types of tequila. Some of the more popular tequilas in the United States are José Cuervo, Patrón, Sauza, and Cazadores but there's many others. Puga carries some of these particular brands at his restaurant for his customers.
"Mexico's most popular spirits has nearly doubled in the past decade from $942 million in 2003 to $1.7 billion in 2010," Arellano wrote.
Tequila is derived from the blue agave plant which is only allowed to be produced in five Mexican states (Jalisco, Michoacan, Guanajuato, Nayarit and Tamaulipas), and goes through a double distillation process, according to Arellano.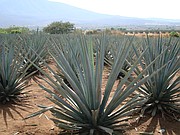 "Alcohol in the country has a long history," he wrote.
According to the American Public Gardens Association, tequila has been the national drink and part of Mexico's culture for over 250 years and has been produced in Tequila, Jalisco.
More like this story
SUBMIT FEEDBACK
Click Below to: