Mohave 911 | April 9, 2018
Originally Published: April 9, 2018 5:55 a.m.
The following arrests were reported by Kingman Police Department and Mohave County Sheriff's Office for the week ending April 6:
Drugs
Lauriano Lawrence Lovato, 49, of Kingman was arrested April 4 for felony dangerous drugs and misdemeanor driving without a license.
Deputies conducted a traffic stop on a purple sedan travelling west on Northfield Avenue. When asked for his driver's license, Lovato told deputies that his license was "probably suspended."
A records check confirmed that the license was suspended, and Lovato also told deputies he had a baggie of meth in his pocket.
Drugs, weapon
Michael Dean Lama, 24, of Kingman, was arrested April 4 for dangerous and narcotic drugs possession and carrying a weapon in commission of a crime, all felonies.
Deputies conducted a traffic stop on Thompson Avenue and noted that Lama, the driver, was visibly nervous and was asked several times to keep his hands out of his pockets.
When asked if there was anything in the car, Lama told deputies about a gun. He again put his hands in his pocket and deputies saw a baggie of meth in his hand.
A search of the vehicle revealed aluminum foil with heroin residue and a 9mm handgun. Lama admitted that all items found belonged to him.
Stalking, criminal damage
John Wesley Holcomb, 55, of Golden Valley, was arrested April 4 for first-degree burglary, stalking and domestic violence, all felonies, and for misdemeanor criminal damage.
Deputies responded to a residence in the 900 block of Santa Maria where a man was reported walking around the property of a neighbor, who they knew was having problems with an ex-boyfriend.
Deputies knew the suspect from previous reports and knew there was an expired protection order against him. When they put their headlights on him, Holcomb started walking toward the property, knocking on the front door.
They heard a female voice tell him to go away and stay away. As he was being handcuffed, Holcomb made aggressive comments and refused verbal orders, causing the deputy to bring out his taser, at which time Holcomb submitted to restraints.
The victim said Holcomb reached inside the residence through a hole and unlocked her back door the previous night, and came into her home. She said the hole had not been there prior to the incident.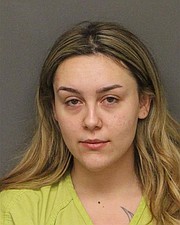 Aggravated assault
Summer Howell, 22, of Tucson, was arrested April 4 for felony aggravated assault and two counts of misdemeanor threatening, intimidating and disorderly conduct.
Deputies went to Crazy Fred's Truck Stop on Old Highway 66 in response to a disturbance. The caller said Howell was denied getting on a bus because she was drunk and disruptive.
Howell made aggressive movements and verbal threats toward the deputies. While she was being restrained, she tried to push deputies away and kicked them. She continued to assault the officers as she was being placed in the patrol car, and threatened to come back and assault the woman who initiated the disturbance report.
Aggravated assault
Britney Clara Crump, 19, of Kingman was arrested April 5 for aggravated assault on a peace officer and resisting arrest, both felonies.
Deputies went to a home in the 2700 block of McVicar on a call about a civil problem and were told that Crump refused to leave.
Deputies told Crump to leave the property several times, eventually having to restrain her and physically carry her outside the home. That's when she started kicking deputies, striking them in the knees.
Drugs, warrants
Mark Roger Brassill, 59, of Kingman, was arrested April 3 on felony charges of possession of dangerous drugs, possession for sale, possession of drug paraphernalia and a warrant for parole violation.
Daniel Burke, 34, of Kingman, was arrested at the same time for parole violation.
Police offers contacted both Burke and Brassill in response to a complaint about a dog barking in the 200 block of Chestnut Street.
They tried to avoid the officers. Burke was found hiding in a bathroom, while Brassill tried to run away. Both were captured without incident.
Brassill was reportedly found to have methamphetamine packaged for sale and associated drug paraphernalia.
Drugs
Frankie Valdez Jr., 33 of Kingman, was arrested April 2 for possession of marijuana and possession of a dangerous drug, both felonies.
Sheriff's deputies stopped a silver sedan travelling east on Northern Avenue. The driver, identified as Valdez, admitted that he had a small amount of marijuana in the vehicle. Deputies searched the vehicle and found the pot and a baggie with about a small amount of meth.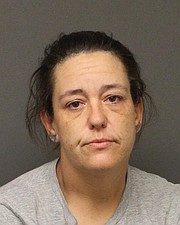 Drugs
Jennifer Marie McKenney, 35, of Phoenix, was arrested April 3 for possession of dangerous drugs and drug paraphernalia, both felonies.
Deputies spoke to McKenney on an unrelated matter when she gave consent to a search of her bags. The found syringes and a baggie containing a white substance, which McKenney admitted was meth.
Drugs
Casey Ryan Lashorne, 34, of Kingman, was arrested March 31 for possession of dangerous drugs and drug paraphernalia, both felonies.
Deputies stopped Lashorne around Bank Street and Potter Avenue, at which time two people tried to get out of the vehicle.
They told the passenger to stay in the vehicle and talked to the driver.
While running a records check, deputies noticed a straw sticking out of Lashorne's pocket. It had a white residue. A search of his person found a baggie of meth and drug paraphernalia.
More like this story
SUBMIT FEEDBACK
Click Below to: