Fire services on a tight budget: Better Kingman Fire responses will come at a price
Originally Published: April 10, 2018 6 a.m.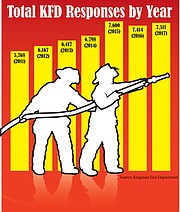 Firefighters were busy running around town putting out fires and responding to medical emergencies in 2017, according to Kingman Fire Department's annual report.
KFD's operations division responded to 7,511 calls for service in 2017, compared with 7,414 in 2016. Overall, call volume has increased 23 percent since 2011, all without significant budget or staffing increases, Fire Chief Jake Rhoades noted in the report.
"It was a good year, very positive for the organization," Rhoades said in a phone interview Friday. "It's just trying to manage the increased volume of calls and the dynamics of those calls."
He's seeing an increase in opioid-related calls, which has become more cumbersome because of the training required and lack of funding.
"That affects the daily operation of our equipment that we address every year," Rhoades added.
Among the more notable calls in 2017, the fire department assisted Northern Arizona Consolidated Fire District on June 26 with the Bulldog Disposal fire on Route 66.
Due to the size of the fire, firefighters were split into three divisions, one each for the large recycling yard, the auto recycling yard and the pic-a-part yard. The auto recycling yard had 500 to 600 disabled vehicles, and 156 of them caught on fire.
Route 66 was closed for a couple hours, and crews worked until close to midnight extinguishing all the spot fires.
The fire department's EMS division went out on 6,114 calls last year, up substantially from 5,286 the previous year and topping 5,898 calls in 2015 as the highest number on record.
EMS personnel were called to 44 cardiac arrests, and nine of them had bystanders doing CPR before medical staff arrived. The outcome of these calls is highly dependent on critical intervention, especially early defibrillation and chest compressions, Battalion Chief Dan Winder said.
Other highlights from KFD's annual report:
Special Operations responded to 84 calls for service last year, up from 50 the previous year and nearly double from 43 in 2011.
The Training Division provided 28,213 hours of training to fire department employees in 2017, surpassing nearly 21,000 hours in 2016 and four times more than 2011.
Although Building and Life Safety saw a spike in 2015 for total property loss, the division reported a 10.4 percent increase in total property saved since 2014.
The 9-1-1 communications center answered 56,094 calls for service in 2017, up from 54,789 the previous year and a 10 percent increase from 2015.
Among its accomplishments, KFD was awarded an ISO Class 1 rating, the highest rating possible. The ISO rating for fire suppression capability is critical in determining home insurance premiums.
Of the 46,042 fire departments evaluated nationwide, Kingman is one of only 241 fire departments awarded an ISO Class 1 rating, putting it in the top 0.52 percent. Only two other Arizona fire departments – Tucson and North County – have achieved this rating.
Kingman Fire Department also received accredited status with the Commission on Fire Accreditation International (CFAI) for meeting the criteria established through the agency's voluntary self-assessment and accreditation program. It's one of only 10 other accredited agencies in the Arizona and the first in Mohave County.
The fire department added the Rapid Response Vehicle squad, on duty from 10 a.m. to 6 p.m. Monday through Friday, with personnel trained in advanced life support.
The squad responded to about 520 calls in 2017, or 8.2 percent of emergency medical calls.
"By using this level of service, the big red trucks remain in the station and available for the high-priority fire calls that they are built for," Rhoades said.
His goals for 2017 were:
• Enhance delivery of services to the community.
• Invest in leadership development for the long-term health of the organization.
• Provide for health and safety of all employees.
• Develop an effective communication and outreach program.
• Develop organization to lead fire service.
As for the future, Rhoades said the increased call volume has taxed his staff, facilities and equipment.
Station 22 has been a point of discussion for many years, and is becoming a priority as the station continues to age and presents issues with living conditions. It's budgeted for replacement, with the new station to be built on the other side of Lewis Kingman Park.
Also, the need for Station 25 has become increasingly more apparent with the growth of the city, and the need to better serve residents on the east bank of Kingman.
"Just the impact of quality in those stations, just the maintenance and longevity as well," the fire chief said. "We also want to include the dispatch center for remodel."
More like this story
SUBMIT FEEDBACK
Click Below to: