Prep Baseball: Bulldogs tally first win in program history over Odyssey, 8-4

Originally Published: April 11, 2018 9:19 a.m.
KINGMAN – Chad Baitinger has preached a simple message all season to the Kingman High School baseball team – 'Keep your head up.' The Bulldogs head coach used those words again Tuesday and it paid off as 25th-ranked Kingman tallied its first victory in program history over No. 17 ranked Odyssey Institute, 8-4.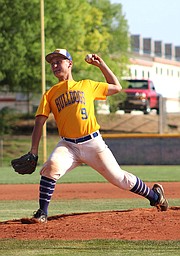 "After coach talked to us, we had to keep on focusing and keep getting our (bats) in," said Kingman's Dante Bravo. "That talk really helped us out."
Bravo accounted for his team's first three RBIs of the game, highlighted by a two-run triple in the first inning and then drove in another run in a five-run fourth inning.
Bravo finished 2-for-4 with a game-high four RBIs, while Luke Ness added two hits and two RBIs. Coleton Padilla and Rilee Araya each drove in a run to round out the top performers.
Araya shined on the mound after getting plenty of run support – yielding two earned runs on seven hits with eight strikeouts and one walk in a complete game effort.
"The run support helped a lot," Araya said. "But I just found where my pitches were in the later innings. I found my changeup – they weren't hitting that. I was just working counts and beating some barrels."
For Araya, it was also bittersweet to finally beat Odyssey (8-4, 2-3 3A West Region) after the Bulldogs narrowly lost one-run games last season – a 5-4 setback on March 24 and a 6-5 loss on April 11.
"This time, we busted through," Araya said. "It felt great for us."
The Bulldogs jumped out to a 2-0 advantage after the first inning before the Minotaurs put up a run in the top of the second and third frames to tie it. Kingman quickly responded to take a 3-1 lead after three, but Odyssey took a 4-3 advantage heading into the bottom of the fourth.
That's when Hayden Tanner hit a leadoff single to spark the offense. TJ Harviston moved Tanner to second with a sacrifice bunt and Padilla later drove in Tanner for the first run of the frame. With the bases loaded, Ness laced a RBI double to give Kingman a 6-4 lead it never surrendered.
Araya was next up with an RBI single and Bravo rounded out the inning with a RBI single that scored Ness for the final tally.
"If we can keep playing like this – or maybe even better – we can make it to the playoffs for sure," Bravo said.
Baitinger added that the victory will be a big confidence booster as the Bulldogs prepare for their final three regular season games.
Kingman (6-8, 3-4) needs to keep it rolling if it hopes to advance to the state tournament and the next test is a 3:45 p.m. road contest Tuesday against No. 13 ranked Chino Valley (10-3, 5-1).
"We definitely are going to try to finish strong," Araya said. "That's what we really want, is to make the playoffs. As long as we play the way we did today – like a family – we should be good.
More like this story
SUBMIT FEEDBACK
Click Below to: